A 6,000-strong petition campaigning for a vote to BAN Islam in the UK should be removed immediately, according to a Bolton MP.
Yasmin Qureshi, the Labour representative for Bolton South East was 'disgusted' that it has been allowed to be listed on the government website.
However Ms Qureshi said she was not surprised that 'there are so many Islamophobes in this country'.
She was totally unaware of the petition, which to date has collected just over 6,000 signatures – with the issue being foced into debate in Parliament if 100,000 people sign.
"I think that it's a disgrace that it hasn't been taken down," she told MM.
"It's absolutely appalling that it has not been removed from a government website. It's one thing for an individual to create a petition for themselves. But the fact it's on the government website is really wrong and I'm surprised that they are allowing it."
The petition makes sweeping generalisations saying that Muslims refuse to integrate into British society, demand instead that the country they now live in changes around them instead, something Ms Qureshi disagrees with.
"[Muslims are] very much a part of society," she said.
"Such things as going to public houses. Do you have to do that to integrate?
"The women wear veils voluntarily, the headscarf is not obligatory in Islam at all.
"I don't know how many child marriages are going on. You've got be 18 to get married under English law and I don't think anybody is getting married under that age."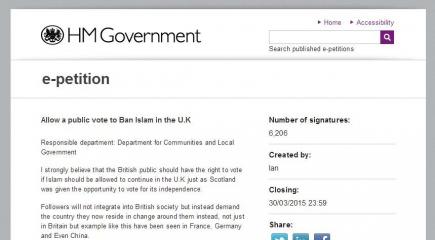 'IT'S A DISGRACE': The petition compares the campaign for an independent Scotland to its campaign for a country free of Islam (©HM Government e-petitions, with thanks)
The north Manchester MP also argued that 99% of media coverage about Islam was negative, something made noticeably worse since the Charlie Hebdo massacre in Paris earlier in the month.
"What you have to understand is – what's happening politically with ISIS and Al Qaeda, people have to understand it's not to do with the religion – it's very much political combat," she said.
"The petition is down to lack of education about Islam. There is a lot of religious illiteracy around.
"If you think about it, there are seven and a half million Muslims in this country. Only a tiny handful of Muslims have joined in the warfare going on internationally."
Image courtesy of David Holt, inset image from BBC, with thanks