Manchester's vegan activists held a peaceful vigil in memory of slaughtered animals last weekend when around 40 people gathered in town centre.
Saturday's event was organised by Manchester Pig Save and Bolton Chicken Save which form part of the worldwide Save Movement – a grass roots organisation founded in Toronto in 2010.
Members of the Save Movement regularly go to slaughterhouses to comfort the animals before they are killed and post photos and videos of them on social media in order to raise awareness and promote Veganism.
One of the organisers, 25-year-old Kate Hutchinson, told MM: "Veganism just means non-violence towards animals and that's what most people believe in anyway. Most people in this country love animals and are against animal cruelty.
"The meat and dairy industry want to profit from these animals so they deliberately hide the slaughter. They don't show us that.
"They promote this idea that there's a humane way of killing animals but we're not protesting the way in which they're killed, we're protesting the fact that they are killed. They're used as property and as commodities and that's always going to be wrong.
"We want the world to go vegan – for animals, for the environment and for people's health as well."
Those who took part held up placards with photos of pigs from Tulip Slaughterhouse in Ashton and chickens from Bolton Poultry Products Slaughterhouse with accompanying slogans such as "Show me you care."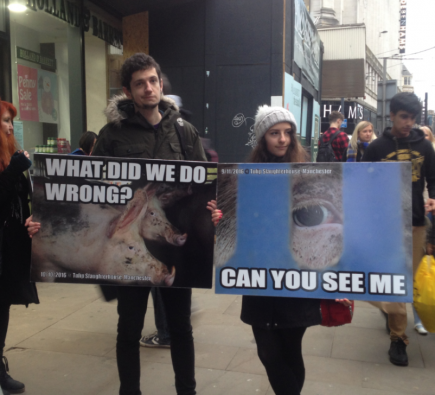 'MOST PEOPLE LOVE ANIMALS AND HATE ANIMAL CRUELTY': Protestors making their point in Manchester town centre
The vigil began in Market Street and then moved to the Arndale centre and other meat serving food outlets such as Burger King and McDonald's at Piccadilly Gardens.
To learn more about the Save Movement visit http://thesavemovement.org/