Greater Manchester Mayor Andy Burnham aims to combat air pollution in Manchester by introducing a clean air zone in the city.
Drivers of lorries, buses, taxis and coaches could face penalties for entering one of four designated areas from A-D.
However, he was clear that it would not be a congestion charge, which 79% of people voted against in a 2008 referendum.
"I want to stress two things as emphatically as I can," he said at the launch earlier this month.
"Firstly, this is not a charge to use the roads – a congestion charge – but instead a penalty scheme for non-compliant vehicles. People with a compliant vehicle would have no fine to pay.
"Second, this proposal would not apply to private cars registered in Greater Manchester, 80% of which are already compliant."
The proposal comes after the Government instructed several areas across the UK to develop measures to tackle high levels of NO2 on local roads in July 2017.
A report in May 2018 found that more than 40 towns and cities in the UK are at or have exceeded the air pollution limits set by the World Health Organization.
Globally nine out of 10 people breathe air containing high levels of pollutants.
According to the WHO, the world's most polluted city in 2015 was Muzaffarpur, India, with a figure of around 197 micrograms per cubic metre.
Fine-particle air pollution causes a range of health problems, including stroke and heart disease, as it penetrates deep into the lungs and cardiovascular system.
Manchester council ranks the second worst in England for PM10 particulate pollution, which is linked to conditions like lung cancer and asthma, a report by IPPR North revealed last year.
Findings from the Office of National Statistics last July showed that 1,320 people died due to asthma in England and Wales – a rise of more than 25% over a decade, and there has been an increase of 43% in asthma related deaths in those aged 55-64 since 2016.
In September 2018, Manchester's central air quality monitoring station recorded the highest levels of air pollution anywhere in western Europe.
The results are recorded hourly, received by the Greater Manchester Mayor's team, and relayed to Beijing where Chinese experts prepare hourly World Maps indicating air pollution levels.
Clean Air GM – a collaboration between the 10 local authorities in Greater Manchester, the Greater Manchester Combined Authority and Transport for Greater Manchester – have been working on a range of ways to improve air pollution.
They have created an interactive map showing the 152 stretches of road likely to have levels of nitrogen dioxide that would breach legal limits beyond 2020 if no action is taken, which can be viewed here.
It includes busy stretches of local roads in all 10 local authority areas, but not motorways as these are being dealt with separately by Highways England.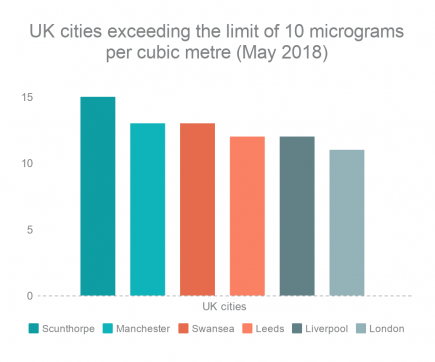 They have also come up with a shortlist of measures including using cleaner gas-to-liquid fuels for buses, improving cycling infrastructure and introducing different parking charges depending on the time of day and vehicle type; it could also include a workplace parking fee.
Work will continue throughout 2019 to finalise the Clean Air Plan and may include a public consultation.
Once the final plan is agreed, they will bid for money from the Government's Clean Air Fund to introduce measures that will improve air quality as quickly as possible.