A single mother from Manchester who suffers from a rare neurological condition is hoping to secure funds to replace her wheelchair, which frequently breaks down and often leaves her stranded.
Saranne Creedy from Stretford, has suffered from Transverse Myelitis – a condition involving inflammation of the spinal cord – since she was nine months old, making her 100% reliant on wheelchair mobility to get around.
The 29-year-old, who has two young sons, is hoping to raise £7,500 via funding website GoFundMe that will enable her to develop and maintain a sense of independence.
"A new wheelchair will drastically enhance the quality of mine and my children's lives," she told MM.  
"It will help me to maintain our dynamic lifestyle and ensure my children benefit from an engaging and active childhood.
"My lifestyle would be impossible without my electric wheelchair – it is fundamental to mine and my children's lives and without it I would need to use a manual chair which I can't transfer from or move around independently in.
Saranne's current wheelchair is in a state of 'disrepair', frequently breaking down and leaving her stranded at inconvenient times.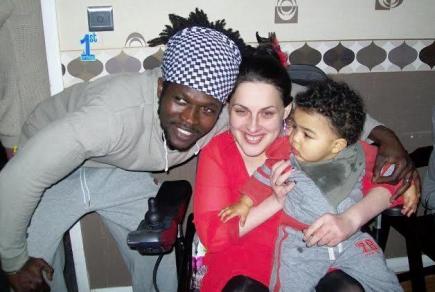 SMILING THROUGH THE STRUGGLE: Saranne says she doesn't want her condition to stop her from leading a normal life
The mother-of-two explained that taking her children to school, nursery, clubs and days out would be impossible without a wheelchair and it has helped her immeasurably with her disability.
"Raising children is difficult for any parent. I don't remember being any more able that I am now, so I've adapted well and found ways around my disability," she said.
"I am very determined to be seen as differently abled as opposed to disabled.
"I work hard every day to ensure that my disability does not affect my children's lives or prevent them from doing things.
"It is difficult at times because my boys are so young then don't understand why I can't run around with them or jump on the trampoline."
Saranne explained that living with Transverse Myelitis had been a daily struggle but she wanted to do everything in her power to lead a normal life.
"Living with the condition day to day is a struggle, however I have had my home adapted so that I can live independently," she said.
"Everyday I make a conscious effort to do everything I can do and not be bound my imposed limitations.
"Life is restricted somewhat due to having to rely upon staff when making arrangements for my children and I."
The 29-year-old explained that she had received a positive response to her funding project so far and was hopeful of eventually securing the intended target amount.
"I've got a great support network around me and we are currently working together to come up with fundraising ideas and ways to raise the money needed to buy a new wheelchair," she said.
"In 72 hours we managed to raise £160, which I am eternally grateful for however I still have a long way to go.
"I am committed to working hard to raise the funds, I refuse to be beaten or accept defeat."
You can donate to Saranne's GoFundMe project by clicking here.