A terrorism expert in Manchester has blasted the Belgian government and described Islamists as 'blood-thirsty' after yesterday's terror attacks.
Three explosions shook the Belgian capital yesterday morning, killing dozens and injuring over 250 people in blasts at Zevantem airport and Maelbeek metro station.
The Islamic State terrorist group have claimed responsibility for the attacks.
Speaking in the aftermath of the tragedy, Dr James Corum, University of Salford lecturer and counterinsurgency expert, said that Belgium's security measures are inadequate.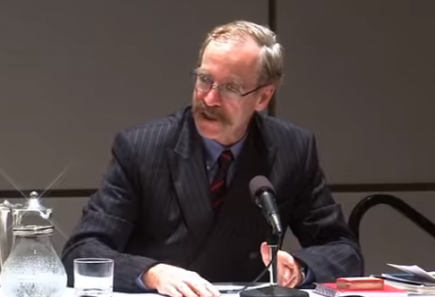 NOT UNEXPECTED: Dr Corum pulled no punches in blaming the Belgian government © TAMUBushSchool
"There were warnings of the level of terrorist potential in Belgium well over a decade ago and the ability of governments to ignore the obvious is pretty amazing," Dr Corum told MM.
"It is not unexpected, in all the countries in Europe, Belgium has a very significant and extremely radicalised Islamic community who are mostly Moroccan.
"The situation in Belgium has been going on for a decade, this is only the latest dramatic manifestation of what is been happening." 
The blasts came just four days after Salah Abdeslam, the main suspect in the attacks in Paris last November, was arrested in Brussels.
The lecturer, who is a retired lieutenant colonel originally from the United States, said that policing must stepped up in the country.
"Since 2001, the Molenbeek district in Brussels has been connected to something like a dozen major terrorist attacks," said Dr Corum.
"Proportionately, Belgium has sent more fighters to support ISIS in Syria than any other European country.
"To a large degree the Belgians have been trying to downplay the incredible situation that they have placed themselves in, downplay the level of radicalism and the dangers.
"It was only recently that the Prime Minister actually admitted that they had no-go zones in Belgium where effectively they had lost control.
"Belgium does not have adequate police resources so the obvious happens."
Eiffel Tower lights up in solidarity with Belgium after Brussels attacks https://t.co/HHhB0CJCks pic.twitter.com/HhGDYg96yj

— The New York Times (@nytimes) 22 March 2016
Dr Corum, who was deployed to Iraq in 2004, also highlighted security concerns here in Britain.
"Some of the radical leaders in the most radicalised Islamist mosques are connected to British mosques, normally in London," he said.
"The community in Britain is somewhat, different being more Bangladeshi and Pakistani and not North African.
"North African Islamist movements have been in many respects even more brutal and more violent than the ones out of the Middle East.
"You only have to look at the conflicts between the Islamists and the government in Algeria that went on well over a decade with well over a hundred thousand dead, real blood baths – these are pretty blood thirsty people." 
Dr Corum, who has written several books on counterinsurgency, added that more must be done to infiltrate closed communities.
"I am not a social anthropologist expert in North African communities, but if I was a policeman I would be hiring quite a few of them to start sorting out some of the particular social issues," he said.
"You certainly have the potential for closed communities where community bosses run it virtually like a mafia and we have seen that in Britain in certain places.
"It's more expensive in Britain to buy guns and explosives but they are relatively cheap on the continent.
"I don't think that you have quite the level of radicalisation or the police no-go zones that you do in Belgium."
The Brussels Airport departure hall, before and after Tuesday's explosions https://t.co/0m4NoEjkDT pic.twitter.com/jLsxH2gJG4

— The New York Times (@nytimes) 22 March 2016
Greater Manchester Police rolled out more officers across the city and at the airport yesterday, as the terror threat level was raised to severe.
However, Dr Corum said that he does not expect Manchester to be a target.
"If I were trying to think like a terrorist I would certainly want to hit London rather than Manchester," he said.
"In most of the world if you say 'Manchester is attacked', everyone is going to run for a map and try to figure out where Manchester is even though its actually one of the major cities of Britain.
"When you have so many soft targets and really lucrative targets, as in London, Manchester would be much lower on my list of priorities if I were a terrorist.
"But I certainly think that the British police ought to be very, very nervous about London.
"I approach this from a historical viewpoint, I look at data over time, but one of the things I have learned is that you have to study the communities and study the particular aspects of the community.
"With the attacks in France in November and the connections with the Belgian radicals, I would hope this is a wakeup call but I think that the Belgian government have a lot to answer for."