University students have tasted success after hosting their own art exhibition in the Northern Quarter.
The fifteen budding artists – all of which are studying Graphic Design and Illustration at Staffordshire University – held the event called 'Connected' at Kosmonaut on Tariff Street.
The exhibition allowed them to make vital industry connections as they presented bespoke pieces of artwork on Thursday, March 16.
Each individual interpreted the theme in a very different way, taking inspiration from nature, literature, logograms within type, physical materials and social constructs.
Emma Andrews, graphic design student and organiser of the event, said: "Manchester is one of the key creative hubs in the UK.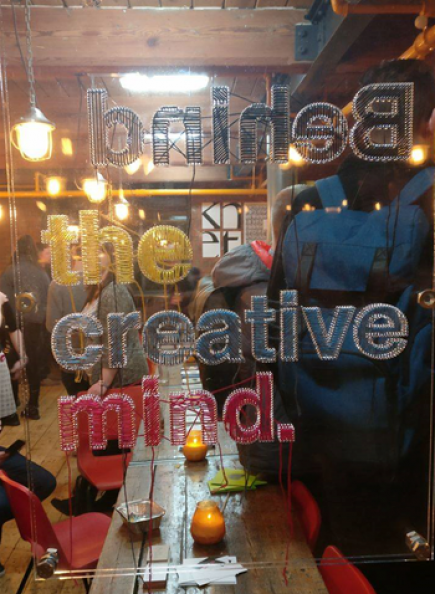 CREATIVE: The work was displayed in the popular bar
"It is a beautiful, vibrant city and there is no better place for us to exhibit our work.
"Kosmonaut is a creative venue and has the perfect mix of modern and industrial, complementing our theme and connecting the bar with Manchester and its rich history."
For a networking opportunity like this, design students would usually have to attend events such as D&AD (British Design & Art Direction) Festival, at a considerable cost to their personal bank accounts.
However this event – sponsored by Three Rivers Gin – allowed them the same opportunity without forking out the cash.
One artist, Nathan Harris, 23, told MM: "Instead of paying two grand for a small booth at D&AD, we hosted our own event and invited everyone in Manchester who's in the industry.
"I've got about six business cards so far and we've all had a great reception."
Nathan and his fellow artist Daniel Langley, 23, shared the theories behind their pieces.
Nathan said: "I split my piece into 72 different posters, each in 72 point size, because I wanted to appreciate the individual shapes of each letter, rather than their meaning."
Daniel added: "My piece represents both the loose ends that are explored in a creative process, and the dead ends that designers are often faced with when creating a piece."
When asked what he'd like to do once he finishes with his education, Daniel responded: "I'm looking at going into visual identity or branding and packaging, my style is very open and adaptable."