Passengers passing through Piccadilly Station this morning will be among the first in the country to see the NUS campaign targeting the parliamentary candidates who broke their tuition fee pledge back in 2010.
The huge billboard, located above the departure boards in the centre of the station concourse, features the slogan 'Liar Liar' with the caption 'broken pledges leave a permanent mark'.
Five years ago, the NUS took signatures from just under 1500 prospective MPs, urging them to vote against any increase in fees at the next Parliament and to pressure the government to introductive a fairer alternative.
After getting into power with the Conservatives, only 21 of the 57 elected Liberal Democrat MPs who signed the pledge kept their promise.
In Manchester, former Hazel Grove MP Sir Andrew Stunell and Cheadle parliamentary candidate Mark Hunter both turned on their pledges to students once they were in power.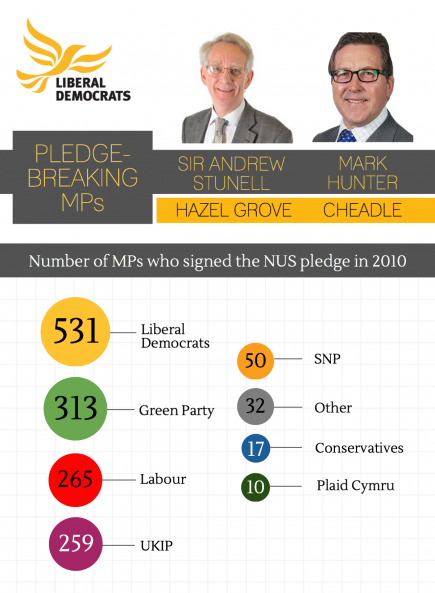 The NUS is now calling for students who used their vote in 2010 to back the Lib Dems to punish those pledge-breaking politicians.
NUS President Toni Pearce said: "Nick Clegg and all of the other pledge-breakers toured campuses all over the country and made personal promises to students. They signed pledges. They held them up for photo opportunities, and used each as currency for election.
"Students queued to vote for the Lib Dems in 2010 on the sole basis of this pledge. It wasn't a minor misdemeanour. It was an outright lie. We have an obligation to hold them to account for this, and we will."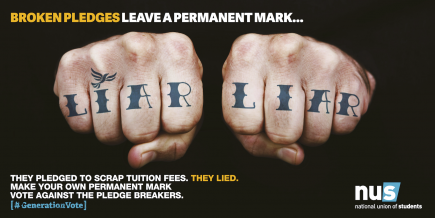 BROKEN PROMISE: The billboard directly targets the two Manchester Lib Dem MPs who went back on their words in 2010
Billboards have also been erected at London Victoria and Lib Dem leader Nick Clegg's home turf, Sheffield Central, encouraging voters to remember the broken promises when they cast their vote in just under two weeks.
Among the senior Liberal Democrat politicians who turned back on their words are Danny Alexander, Chief Secretary to the Treasury; Vince Cable, Secretary of State for Business, Innovation and Skills; and Lynne Featherstone, ex International Development Minister.
A recent NUS study found that trust in politicians is at an all-time low, with over three quarters (77%) of students admitting they don't trust their elected representatives to keep promises.
Mark Hunter could not be reached for comment, while Sir Andrew Stunell, who is not running for re-election, declined to comment.
Image courtesy of NUS, with thanks