The UK Independence Party took its first council seats in Greater Manchester last night – snatching two seats in Bolton.
UKIP also gave Labour a scare across many of Bolton's hotly-contested seats – placing a second 12 times.
However Labour retained control with 40 seats, Tories 15, Lib Dems three and finally UKIP's two.
As the count unfolded, the hall was awash with worried-looking Labour candidates – even those in seats that had been solid for decades.
Ensure you follow MM's live blog of all the results across Greater Manchester here.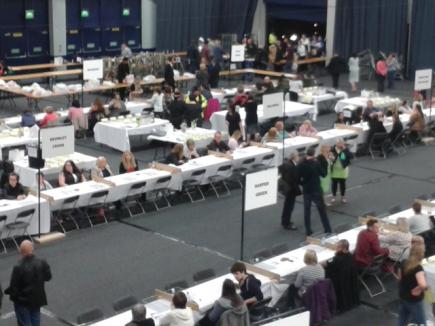 PUTTING PEN TO PAPER: Bolton's voting station
The first UKIP victory was in the Labour seat of Little Lever and Darcy Lever where Paul Richardson secured a majority of 204 over sitting councilor Maureen Connell.
The announcement of the result brought one of the biggest cheers of the night as UKIP party workers leapt with joy.
UKIP's first Greater Manchester councillor looked almost surprised that he had managed to top the vote.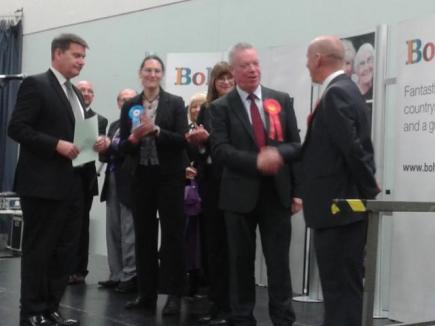 GOOD JOB: Labour councillor Martin Donaghy (second left) congratulates colleague Nick Peel
Mr Richardson told MM: "It feels like we have broken through a logjam. We provided an alternative vote for the people. We will do a little more listening than the other parties."
Asked whether in the light of recent polling results he had expected to win, Mr Richardson said: "I did not allow myself to be complacent. My view is you have to build a base in local elections to be successful nationally. The campaign for the general election starts tomorrow."
Shortly afterwards the axe fell in Hulton, where deputy Tory Leader Andy Morgan, was beaten by just 141 votes by Diane Parkinson.
She said: "It is fantastic for UKIP. We had a great team.
"I expect this result will be reflected in the European elections and we should do quite well. I think it is time for a change."
These two gains were to be UKIP's only success of the night, but there were some very concerned faces among Labour Party members as they watched the UKIP ballot papers piling up next to their own.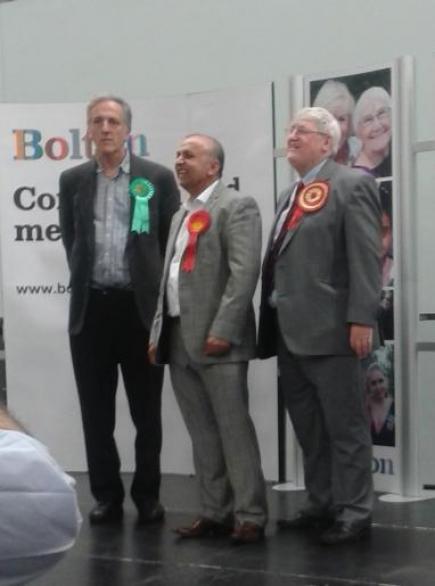 VICTORY: Akhtar Zamana (middle) received 2260 votes to comfortable give Labour a seat in Halliwell
From midnight onwards rumours circulated that the Lib Dems could face losing their only ward in Bolton – Smithills.
Despite clinging to the seat, the Lib Dems saw their strength elsewhere decimated.
While previously enjoying runner-up positions behind either Labour or the Tories, their best results across Bolton came only with fourth and fifth places.
Rock-solid Labour seats like Tonge with The Haulgh and Farnworth were said 'to be too close to call' earlier in the evening.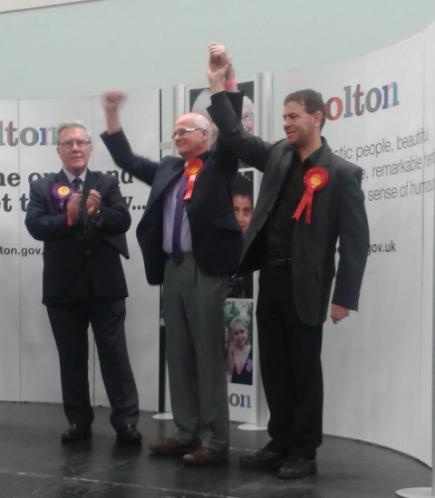 REACHING FOR THE TOP: Kevin McKeon (middle) claims another victory for Labour in Horwich North East 
There were even rumours ex-Tory leader John Walsh may lose the normally safe Astley Bridge ward – however these fears proved unfounded.
Enjoying third place in Astley Bridge, UKIP's candidate Harry Lamb said: "They are voting for us because they do not trust other politicians."
Some Labour party activists attributed the success of UKIP to the mistake the government had made in holding the local and European elections on the same day.
"It could be a difficult night," Labour Cllr Harkin told MM. "The government made a fundamental mistake conflating the two elections which has let UKIP contest the locals even though they have no local policies."
But this was not a view shared by Jeff Armstrong, UKIP candidate in Farnworth, who said: "People want a change. I know of some people who were not voting in the European Election but still voted in the local – so they are voting on local issues."
As it turned out the main parties avoided any further losses.
Relived to retain his own seat in Tonge with The Haulgh, executive committee member Nick Peel said: "I am delighted to be re-elected. It is a good ward to serve.
"There has been a rise in support for UKIP and the Labour Party nationally needs to address these issues."
These thoughts were echoed by Bolton North East MP David Crausby, who said: "Well, it has been a strange night.
"UKIP have clearly taken votes from Labour and the Conservatives, winning one seat from each of us and the main parties have got to address this."
At the end of a very long night – the count not being completed until almost 4.00am – the Leader of the council, Cliff Morris said: "I am happy overall with the result, but sad to lose a very good councillor. We kept UKIP at bay."
They did keep UKIP at bay, but only just.
Elsewhere, Labour maintained both seats in Horwich and Blackrod.
Turnout for the elections this year in some areas has seen an increase from last time as Heaton and Lostock had a 44% turnout, as did Smithhills.
Horwich and Blackrod had 35%, Horwich North East 37% and Westhoughton North 38%.
Astley Bridge (Conservative hold)
John Walsh, CON 1481
Stuart Murray, LAB 1279
Harry Lamb, UKIP 1039
Ben Deed, GRN 182
Clive Atty, LD 85
Bradshaw (Conservative hold)
Mudasir Dean, CON 1585
Arthur Norris, UKIP 932
Paul Fitzpatrick, LAB 786
Gaby McDowall, LD 172
Daniel Bolton, GRN 150
Breightmet (Labour hold)
Lynda Byrne, LAB 1490
Kathleen Kavanagh, UKIP 1217
Clare Heyes, CON 577
Laura Diggle, GRN 115
Stephen Howarth, LD 51
Bromley Cross (Conservative hold)
David Greenhalgh, CON 2312
Colette Harkin, LAB 957
Lynda Rosewell, UKIP 878
Chris Atty, LD 169
Crompton (Labour hold)
Sufrana Bashir-Ismail, LAB 2363
George Bown, UKIP 826
Ryan Haslam, CON 456
Anne Warren, LD 148
Pam Humphreys, IND 121
Farnworth (Labour hold)
Noel Spencer, LAB 1454
Jeff Armstrong, UKIP 1108
Aidan Meagan, CON 211
Trevor Bonfield, GRN 115
Doug Bagnall, LD 73
Great Lever (Labour hold)
Mohammed Ayub, LAB 2420
Dot Sexton, UKIP 505
Jay Patel, CON 338
David Collins, GRN 127
Rebekah Fairhurst, LD 64
Joseph Holt, IND 54
Halliwell (Labour hold)
Akhtar Zaman, LAB 2260
Leo Taylor, UKIP 607
Jolyon Coombs, CON 223
Ian McHugh, GRN 173
Francine Godfrey, LD 95
Andrew McKenzie, IND 42
Harper Green (Labour hold)
Mike Francis, LAB 1713
Geoff Hamlett, UKIP 726
Rob Tyler, CON 366
Kathy Sykes, GRN 115
Wendy Connor, LD 86
Heaton and Lostock (Conservative hold)
Colin Shaw, CON 2237
John Gillatt, LAB 1154
Stephen Thomas, UKIP 933
Christine MacPherson, LD 196
Hannah Middleshaw, GRN 179
Horwich and Blackrod (Labour hold, two seats)
Alan Bury, LAB 1313
Stephen Pickup, LAB 1310
Bob Horsefield, UKIP 1147
Carol Forshaw, CON 850
Daniel Haslam, CON 708
Keith Cocker, GRN 401
Lynne McCartin, LD 201
Lynn Rock, LD 159
Horwich North East (Labour hold)
Kevin McKeon, LAB 1324
Peter McGeehan, UKIP 888
Anne Galloway, CON 743
Stephen Rock, LD 573
Rod Riesco, GRN 203
Hulton (UKIP take over from Conservatives)
Diane Parkinson, UKIP 1291
Andy Morgan, CON 1150
Shafaqat Shaikh, LAB 1140
James Tomkinson, GRN 162
David Cooper, LD 69
Kearsley (Labour hold)
Derek Burrows, LAB 1139
Mark Cunningham, UKIP 1096
Margaret Rothwell, LD 348
Simon Colley, IND 309
Sandra MacNeill, CON 278
Heatons South (UKIP takeover from Labour)
Paul Richardson, UKIP 1255
Maureen Connell, LAB 1051
Eric Hyde, LD 661
Rees Gibbon, CON 657
Alwynne Cartmell, GRN 147
Manor (Labour hold)
Ismail Ibrahim, LAB 2876
Geoffrey Kay, UKIP 492
Jack Heyes, CON 317
Alan Johnson, GRN 200
Jaleh Salari, LD 66
Tonge With The Haulgh (Labour hold)
Nick Peel, LAB 1399
Derek Fisher, UKIP 1053
Zoe Kirk-Robinson, CON 486
Dorothee Sayers, BNP 109
Hafsa Patel, GRN 91
Paul Harasiwka, LD 66
Eric Hyland, LU 14
Westhoughton N and Chew Moor (Conservative hold) 
Martyn Cox, CON 1424
Anne Graham, LAB 1278
Joan Johnson, UKIP 984
Jack Speight, IND 203
Derek Gradwell, LD 163
Heather Rylance, GRN 127
Westhoughton South (Labour hold) 
Kevan Jones, LAB 1268
Les Wareing, UKIP 917
Stephen Wallen, CON 562
David Wilkinson, LD 361
Derek Bullock, ED 97
Photography by Louise Hill
Full breakdown of results and more reaction to follow through the day. Check back for updates.