A Dukinfield ex-nurse who raised £25,000 for a hospital operation to enable her disabled daughter to walk has been told she cannot have the surgery after all.
Allison Thomlinson, 40, had got the cash from well-wishers after doctors said there was no NHS funding for treatment to help two-year-old Sophie Thomlinson take her first ever steps.
But after the appeal raised over £50,000, Mrs Thomlinson went back to Leeds General Infirmary for a consultation only to be told doctors would not operate as surgery was 'not of benefit' to the youngster.
They said Sophie – who cannot use her legs due to a medical condition – had 'good mobility' and said her condition would be reviewed in a year.
Last year, the same NHS trust sparked fury after it agreed to give patient Josie Cunningham, 24, a £4,800 breast enlargement operation at taxpayers' expense to help with her 'self-esteem'.
Today, Mrs Thomlinson said: "I am sick of seeing these women getting new breasts for free when my daughter is supposed to accept the fact that she may or may not walk when she is older.
"These doctors don't know about her crying because she can't keep up with other children or her shouts when her legs are in absolute agony – yet they will help women get their breasts enhanced.
"Walking is a basic human right, we raised more than enough money for the operation, what more do they want?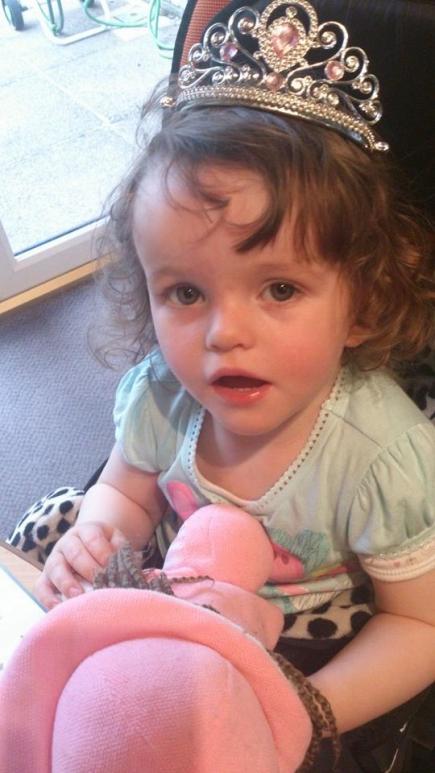 OP FIGHT: Sophie Thomlinson was born with spastic diplegia, a form of cerebral palsy
"On paper, Sophie is a perfect candidate for the operation. I just can't understand why this has happened, I am devastated beyond belief and as soon as I came out of the hospital I cried in the car – in only an hour they destroyed my dreams.
"My world came crashing down when we were told we would have to wait 12 months, even then there is no guarantee that she will be accepted then and it feels like we are expected to wait in limbo.
"I literally could not speak to the doctor after that, I was numb and just felt that we had got so close to Sophie walking only to have the doctor rip it out from under us.
"As far as I knew, all I would need to do was get the money and, within a few months, Sophie could have the operation. At the end of the day, she has cerebral palsy and there should be no scale to measure that."
Sophie was born in 2012 with spastic diplegia, a form of cerebral palsy. The youngster would suffer from stiffness and pain in her legs and would not be able to walk without the help of her parents.
Mrs Thomlinson found out that an operation, Selective Dorsal Rhizotomy (SDR) which would reduce spasticity, was available – but would cost £25,000 as it was unavailable on the NHS.
She was told that as long as she raised the money and Sophie showed signs of spasticity, the operation would be able to go ahead at Leeds General Hospital.
But, earlier this month, Allison and her husband Craig, 44, met with doctors so Sophie could be given a pre-assessment physiotherapy session.
They were then taken to speak with a consultant who checked Sophie's legs for elasticity as well as seeing how she walked when aided by her mother.
But the doctor told the family Sophie would be unable to have the operation and would have to wait 12 months for another assessment.
Her family believed the physiotherapy session may have helped temporarily loosen up the joints in Sophie's legs so by the time the doctor came in she was not as stiff.
The criteria at Leeds Hospital states that: children over the ages of two with spastic diplegia are able to have the operation as long as they show signs of spasticity in the lower limbs.
Allison is now planning on flying out to America for a second opinion where the operation can cost as much as £75,000 – which would see her spend all of the £53,000 she has raised and with no option but to go back to fundraising.
She added: "Doctors will not even give me a date or confirm that Sophie will ever be able to have the operation, they didn't even offer any alternatives – they just sent us on our way like it was nothing and I fought back tears and just wailed in the car.
"I walked into that office absolutely overjoyed with the prospect of Sophie walking, I could even see her running one day and to have that image destroyed is unbearable, there is no justification.
"On top of this, I have to get Sophie a specialised walker and bike which together will cost another £4,000.
"It was as if the doctors were saying that Sophie has to get worse before she can have an operation.
"We are grateful she isn't severely disabled, but it is completely unacceptable that we were just told to go home and accept the fact that nothing is going to be done for a whole year.
"I will have Sophie walking no matter what, even if I have to spend my life's savings going to America.
"It is just a devastating situation and I want what is best for my daughter."
"And what is worse that hundreds of strangers who don't even know us were kind enough to donate their money which we can't even use now – it is an insult to their generosity."
Leeds Consultant Paediatric Neurosurgeon John Gooden said: "Like any hospital, our duty is to the patient and we would only recommend undergoing surgery if the complex range of tests we carry out showed there would be a benefit for them.
"Each patient is assessed on their pattern of movement to see if this shows that SDR surgery would help their particular case. We are an expert in this field and we are one of the very few hospitals in the UK to carry out the surgery and have done it successfully on a growing number of patients.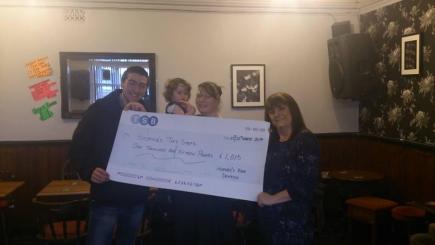 CHARITY CHAMPIONS: The Thomlinson family have raised £25,000 to help Sophie walk
"I understand that, in this case, the parents have had it fully explained to them that the little girl does not have enough of a mobility problem at the moment – in fact, her mobility is so good that she may never need it. She will be reviewed in another year to see if her circumstances have changed."
A Leeds General Hospital spokesman added: "We turn down candidates for the procedure if it is not in the interest of the child.
"It is nothing to do with funding, it is always to do with customer care.
"Sometime it can be that the child is too young or that the operation will not benefit them. The criteria are available on the hospital website."
Story via Cavendish Press
Images courtesy of Allison Thomlinson via Facebook, with thanks.