The 2014 local elections bore no real surprises in Tameside – a strong, but not resounding, win for Labour with only one seat lost to the Tories.
Huge cheers erupted as Labour retained seats in 17 of the 19 wards, but lost Ashton Hurst which the Conservatives managed to snatch back by just 18 votes.
Conservative winner Paul Lee Buckley told MM: "I feel exhausted. I delivered 7,000 leaflets from Saturday until Wednesday evening, and over 15,000 leaflets in the election in total.
"I have worked hard for it, and to have gained a seat on the council is a bit of a surprise, but it was well deserved. Now I'm sure we'll all go out for a few drinks."
Although only having candidates in 11 wards, UKIP saw a massive increase in support.
Droylsden East's UKIP vote was one of the biggest surprises, at 1168 votes they eclipsed the Conservatives at just 250 and were hot on the heels of Labour at 1431.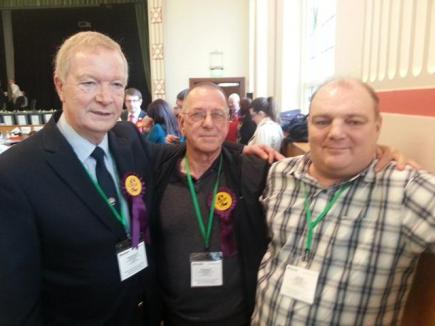 GAINING GROUND: Cllr Dennis Connor, Chairman of Tameside UKIP, Ted Salmon, UKIP Droylsden East, and John Cooke, UKIP Dukinfield
In Audenshaw Labour snatched victory from the jaws of UKIP with Oliver Ryan, the youngest candidate at 19 and one of the youngest in the country, narrowly beating UKIP's David Turner by 1284 to 1162.
Mr Turner told MM UKIP had 'put Labour's nose out of joint a bit' and said: "I am absolutely delighted. I really can't thank the people of Audenshaw enough.
"I think we've proved it isn't a strong Labour seat anymore – I think we'll make inroads there in the next year or two."
Labour seemed to think that although UKIP did not win any seats they were a thorn in their side.
Labour's Philip Fitzpatrick said: "The problem I have is over 900 people voted UKIP and the candidate couldn't even be bothered to turn up.
"We have got to work to make sure we get rid of this UKIP threat."
Ashton St Michaels Labour winner Bill Fairfoull urged people to open their eyes to UKIP's 'lies and racism' in his acceptance speech.
The BNP, unrepresented in the wards of St Peter's and Droylsden last year, saw two candidates gain 303 and 106 votes respectively.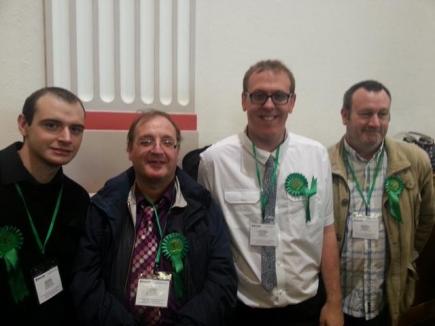 GO GREEN: Nicholas  Koopman ( white shirt) standing for the first time for Hyde Godley 
 
The Green Party saw an increase in votes all around the borough, with Mossley seeing the biggest leap – from 276 to 697.
Hyde Godley's Green party also saw a massive increase of 339 and their candidate Nicholas Koopman told MM: "It was a massive swing.  I'm really chuffed.
"The target was 200, and to increase the vote share and more than double it is a massive result."
Ashton Hurst (Conservative gain from Labour)
Paul Buckley CON 1377
Debbie Boulton LAB 1359
Charlotte Hughes GRN 436
Ashton St. Michael's (Labour hold)
Bill Fairfoull LAB 1466
Liam Billington CON 494
Nigel Rolland GRN 426
Mary Doherty PS 151
Ashton Waterloo (Labour hold)
Lynn Travis LAB  1447
Jack Rankin CON 868
Andrew Threlfall GRN 460
Audenshaw (Labour gain from Conservative)
Oliver Ryan LAB 1284
David Turner UKIP 1162
Colin White CON 429
Nancy Jaeger GRN 159
Denton North East (Labour hold)
Vincent Ricci LAB 1251
Dennis Connor UKIP 906
Carol White CON 344
Gerard Boyd GRN 200
Denton South (Labour hold)
Claire Francis LAB 1160
Carl Simmons IND 1085
Jacob Sutcliffe CON 342
Michael Smee GRN 92
Dean Kavanagh TUSC 91
Denton West (Labour hold)
Michael Smith LAB 2068
Thomas Dunne CON 778
Jacintha Manchester GRN 332
Droylsden East (Labour hold)
Sue Quinn LAB 1431
Ted Salmon UKIP 1168
Liv Brannon CON 250
Mark Stanley GRN 163
Droylsden West (Labour hold)
Barrie Holland LAB 1584
Tracy Radcliffe UKIP 971
Gill Westhead CON 235
Jo Booth GRN 149
Ian Connor BNP 106
Dukinfield (Labour hold)
Jacqueline Lane LAB 1419
John Cooke UKIP 866
Zoe Gallacher CON 252
Julie Wood GRN 219
Dukinfield Stalybridge (Labour hold)
Eleanor Ballagher LAB 1194
Wayne Jones UKIP 954
Christine Liley CON 507
Emily Kelly GRN 206
Steve Starlord IND 59
Hyde Godley (Labour hold)
Jim Fitzpatrick LAB 1597
Mohammed Iqbal CON 493
Nicholas Koopman GRN 479
Hyde Newton (Labour hold)
Philip Fitzpatrick LAB 1406
Gail Jones UKIP 962
Craig Halliday CON 415
Andrew Highton GRN 222
Hyde Werneth (Conservative hold)
Ruth Welsh CON 1153
Andy Kinsey LAB 1143
Philip Chadwick UKIP 782
Melanie Roberts GRN 179
Longdendale (Labour hold)
Janet Cooper LAB 1185
David Tyler CON 733
Kevin Misell UKIP 635
John Kelly GRN 240
Mossley (Labour hold)
Frank Travis LAB 1375
Amanda Buckley CON 851
Christine Clark GRN 697
St. Peters (Labour hold)
Joyce Bowerman LAB 2052
Bill Kitchen BNP 303
Gus Rankin CON 289
Trevor Clarke GRN 288
Stalybridge North (Labour hold)
Kevin Welsh LAB 1125
Clive Patrick CON 811
Angela McManus UKIP 758
Jean Smee GRN 197
Stalybridge South (Conservative hold)
Basil Beeley CON 1123
Dorothy Cartwright LAB 813
Colette Barlow UKIP 603
Mohammed Ramzan GRN 196