In Manchester's darkest hour an American reporter has been slammed for making distasteful jokes about the Manchester Arena explosion just hours after 22 people were killed and 59 were injured.
Thousands of people, mostly youngsters and teenagers were in the audience for the Ariana Grande concert which was hit by an explosion as fans were leaving at 10.30pm on Monday night.
The terrorist incident, which Islamic State have taken responsibility for, has received support from across the world, however freelance US journalist David Leavitt, who claims to have worked for Yahoo and CBS, took to Twitter to make light of the tragedy.
He tweeted: "MULTIPLE COMFIRMED FATALITIES at Manchester Arena. The last time I listened to Ariana Grande I almost died too."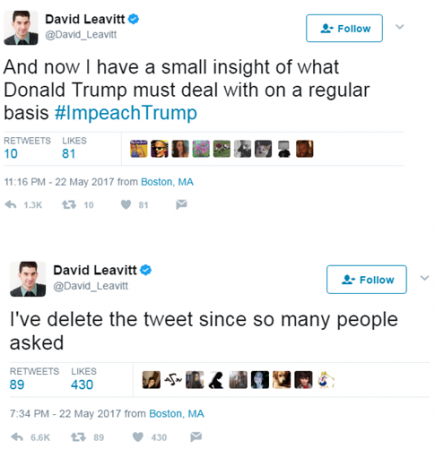 Mr Leavitt was immediately inundated with complaints from outraged Twitter users who labelled him "sick" and "vermin" and called for him to never work again.
One wrote: "This what the delete feature is for."
Another added: "Dude, no. Delete and sincerely apologise to save yourself a shred of grace and dignity. Don't just carry on joking, you plum."
Despite this, Mr Leavitt continued with his insensitive tweets, posting: "Honestly, for over a year I thought an Ariana Grande was something you ordered at Starbucks" – a joke which he has been running with for a while, which is still no funnier than it was before.
Mr Leavitt also claims on his profile that he has worked for AXS and calls himself a gaming journalist.
AXS was quick to respond, saying: "This person has never been employed by AXS. We don't endorse this despicable comment."
Despite the backlash online, Mr Leavitt didn't stop there. He continued to press the situation further, tweeting: "Too soon?"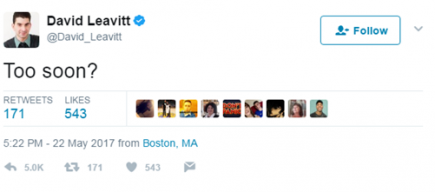 Mr Leavitt eventually posted a half-baked apology and deleted the original tweet two hours after posting.
He said: "Sorry 4 offending. Didn't realize the magnitude of the tragedy. I always make stupid jokes about whatever's trending. Condolences 2 families."
But after realising that no one was buying his apology he returned to making tasteless jokes, claiming he now had an insight of what US President Donald Trump must deal with on a daily basis.
Mancunian Matters have approached Mr Leavitt for a comment.
This has been the worst terrorist attack in the UK since 56 people were killed in the 7/7 London bombings in 2005.
The Prime Minister condemned the incident and is currently travelling to Manchester.
A vigil will be held at 6pm tonight at Albert Square.
Emergency numbers have been established for anyone who is concerned for loved ones who may not have returned home – 0161 856 9400 or 0161 856 9900.