A fashionable street in Chorlton became the first in the UK to trade entirely without cash for the day as a social experiment last weekend.
Beech Road businesses decided to test customers' reaction to paying with plastic only on Saturday.
Figures from the British Retail Consortium show that cash use has dropped by 14 per cent in the last five years, with more than 370 contactless transactions made every minute in the UK.
Owner of The Laundrette, Jon Charles, 39, told MM: "Nobody uses cash anymore.
"It's 85 per cent cards now which is easier for staff."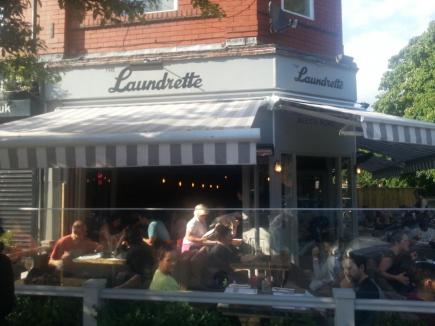 CLEANING UP THE STREET: The Laundrette owner believes that a card-only approach is safer
He added that having to bank cash was inconvenient for the popular bar-cum-restaurant and said that people tended to spend more on cards which was good for business.
He said: "You can get more out of people."
"Using cards is a more trustworthy method as well as there's no chance for staff to steal."
Sarah Raine, 25, manager of local delicatessen Epicerie Ludo, said: "We want to show that independent businesses can offer these things.
"And that we don't have to be a huge supermarket chain to offer you more convenient ways of paying."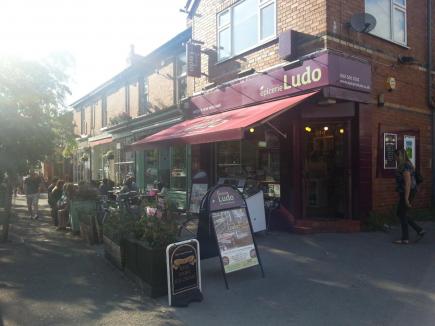 ROLL THE DICE: Epicerie Ludo's owner insists card payments prove independent shops can battle the big supermarkets
A number of bars, restaurants, delis, bakeries and convenience stores took part – but not everyone was impressed with the idea.
Stan Lipnitski, 31, manager of kitschy café On The Corner, said: "I don't see any gain for customers or businesses."
"What about people who don't have cards, what about children, shall we turn them away?"
Colleagues Alicia Herhenteris, 28, and Lauren Breckon, 30, agreed.
Alicia added: "What about people who can't get a bank account?"
"What about homeless people, shall we just exclude them?"
The café is, however, involved in the suspended coffee scheme, whereby anyone buying a coffee can choose to pay for a second one which can then be delivered free of charge to someone in need.
Lauren said: "Getting everyone to only use cards is just lining the pockets of bankers."
Other businesses were concerned about the practicalities of not allowing cash payments.
Juan Jose Martinez, owner of tapas eatery Bar San Juan said: "I need to make as much money as I can.
"It's very expensive to run the business and it wastes time taking card payments.
"The banks charge you too so, if I only take cards, I might have to put my prices up."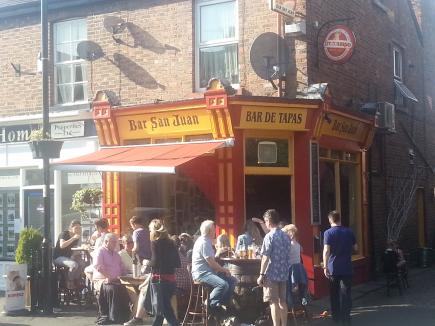 PAY-ELLA: Bar San Juan's owner believes the experiment is more at home in Manchester than Madrid
He added that the idea would not go down well in his native country, Spain.
He said: "The Spanish thinking is more rustic, they like the feel of coins; of cash."
Opinion was mixed among shoppers and bar patrons, with some still wary of using cards for small transactions.
Ben Connolly, 42, an administrator from Chorlton, said: "I like to have cash in my pocket, I don't really feel comfortable with electronic banking.
"I bet if you ask the majority of people, they don't even know how much money they have in their accounts.
"Using cards definitely encourages people to spend more."
Others were reluctant to hand over their plastic just to pay for small transactions such as a couple of drinks and some were concerned about security.
Danielle Jaguelin, 47, originally from France, said: "If I go out at night, I don't want to have a card with me, I'd rather have cash because of the safety aspect."
Some were in favour of the idea, with Web Developer, Simon Wheatley, 39, citing the usefulness of paying by card on a street where the only cash machine available in a local shop charged between £1.75 and £2.50 for withdrawals.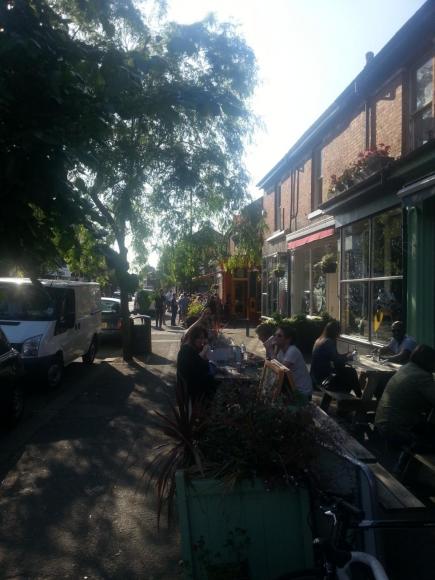 CASHLESS STREET: Businesses up and down Beech Road took note of the experiment and went card-only for the day
Valerie Rice, 50, a teacher of economics from the area, didn't think allowing payment by card only was a good idea.
She said: "Reducing payment options deters expenditure so for business it doesn't make any sense."
"You could start up an account system though and businesses could bill you once a month. That could work."
The experiment was organised by Handepay, who provide debit and credit services to around 22,000 small businesses in the UK.
The company's director Mark Latham, 34, said: "The idea was to get a debate going about how close we are to a cashless society, how ready consumers and small businesses are for it.
"We think that small businesses need to accept it as that is how consumers want to pay."