A student sculptor extraordinaire has stumbled upon his calling in a muddy Manchester scrapyard – raising cash for charities in the process.
A fundraising project has unwittingly kickstarted the career of Manchester Metropolitan University art student Alex Baker, who fell in love with furniture design by experimenting with used car parts.
Alex, 21, had a rocky start to his university degree and spent several terms riddled with self-doubt before finding his niche.
"It wasn't that I was feeling unsure about the degree itself," Alex explained.
"The degree that Manchester School of Art has to offer is of top grade and was very happy to be educated here – it was more that I felt personally at a loss with my own work.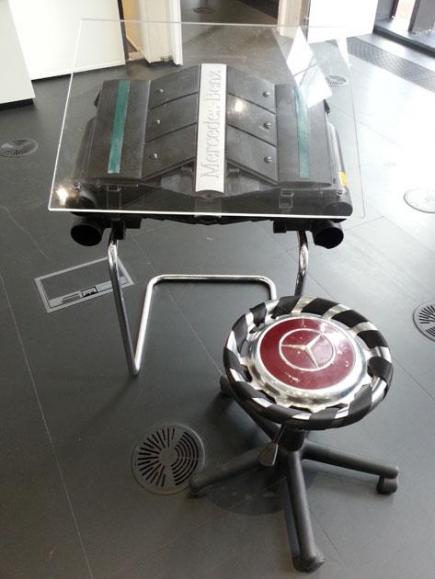 STEERING TO SUCCESS: Alex created furniture from discarded car parts
"I struggled a lot attempting to contextualise and bring meaning to it, to the extent I was forcing it and often the piece was ruined."
But an opportunity arose when Alex took part in the Scrapyard Sculpture project, funded by independent Mercedes trader Dronsfields and digital marketing company Tecmark.
"There was too much thought going into my work and not enough enjoyment," said Alex.
"When this project came along it was an opportunity for me to experiment with materials that I had not used before."
The project invited MMU students to pick bones from a Mercedes graveyard and transform them into something new.
The finished sculptures were then auctioned for six prominent Manchester charities.
"The experience was rather daunting, because I had never done anything like this before," explained Alex.
"Whatever I was going to make had to be something that would raise money for charity, so the pressure was certainly on."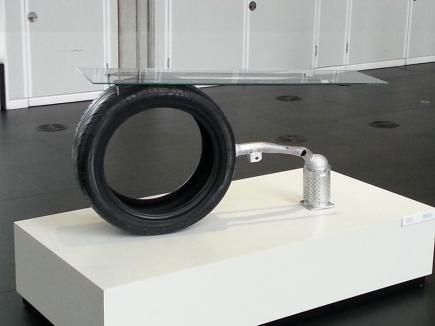 WHEEL-Y GOOD: Alex transforms a tyre into a stylish table
Despite the responsibility Alex said the project was the best artistic experience he's ever had – and he raised £440 for the six charities chosen.
"It's definitely changed the way I view my work. For once I wasn't thinking about the object I was making or the materials I was going to use to make it.
"I didn't have to think about that, because the materials were already there – it was a matter of what I could make out of the parts in front of me."
Alex took up the charity challenge on something of a whim, and didn't expect his work to take such a radical new direction.
"I didn't know what I was going to do with all the stuff I'd chosen at first," he said.
"Then one day I got up and made a table."
Alex's furniture, including a smoking chair, table and desk and chair set, proved to be something of a hit and raised half of the £831 the students raised overall.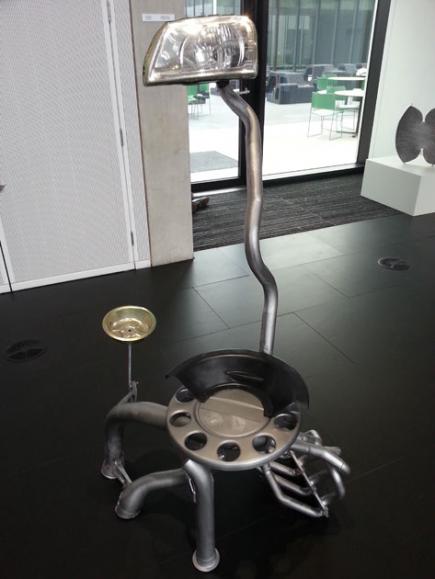 SMOKIN'! Alex took scrap car parts and created this smoker's chair
"The entire experience has been incredible, and I would never have believed that my work would attract so much attention in such a short amount of time," said Alex.
Among the bidders were Dronsfields themselves.
Richard Bannister, account manager at Tecmark, said: "We were really impressed with all the artwork from all the students, but to see items that we picked up from a scrapyard turned into pieces of furniture was amazing."
Alex said that though he has always received support and encouragement from his family and friends, the interest he has received from outside sources was a big shock to the system.
He is now planning to develop his own daring business making furniture 'out of things you don't make furniture out of'.
Richard said: "We are keen to see what Alex does in the future, and have already offered to advise him about selling his work online."
Alex is now making plans for the immediate future and the end of his university career, when the first stop will be securing his own workshop.
He plans to set up a business as a sole trader in construction and Alex hopes the qualification will 'flow into' his furniture-building practice.
"Hopefully I can grow my business and practice together as one," he says.
Alex's exhibition is at the Grosvenor Building of Manchester Metropolitan University and opened on June 13.