An Oldham man has been arrested after a large fire engulfed a sofa warehouse in Royton.
Officers were called to the Oldham Sofa Company at around 00.35am on Tuesday June 23, following reports of a disturbance at the Holden Fold Lane site.
On their arrival, police found that Greater Manchester Fire and Rescue Service were already on site trying to control the blaze.
Due to the scale of the fire, a number of residents were evacuated from their homes while fire fighters tackled the roaring flames.
Detective Sergeant Simon Halliwell said: "I know this incident will have caused a lot of speculation and rumour in the community so it is important we let people know the facts."
A 50-year-old man was later arrested by police on suspicion of arson.
"We are treating the fire as deliberate and a 50-year-old man has been arrested on suspicion of arson and remains in custody for questioning," DS Halliwell added.
"I do not want people to be unduly alarmed and while I obviously cannot go into specifics, we believe this is the result of an ongoing dispute and is not a random act so I do not want the community to be fearful. 
"Fire fighters did an excellent job as they always do in bringing the fire under control and there was no damage to people's homes nor were there any injuries."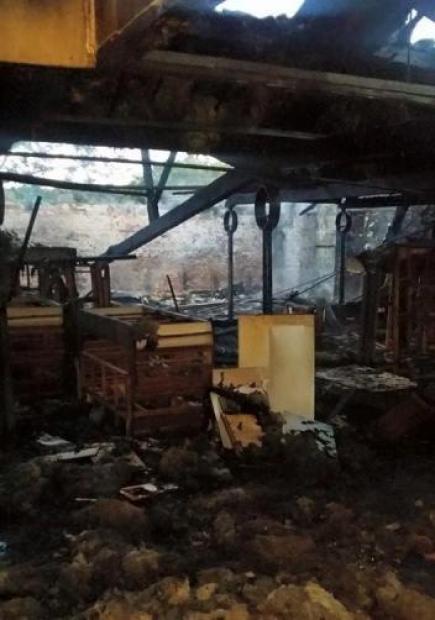 RUINED: This is the second suspected attack on the popular Oldham company
Defiant warehouse bosses have vowed to bounce back from the blaze that saw thousands of pounds worth of bespoke goods burnt to ashes. 
In a statement of Facebook owners asked for the patience of their customers whilst they found new location for the company.
"We had only just got fully operational after last month's fiasco… but we will not be beaten… we will lead out team of amazing staff through this," the message read.
"Customers old and new please, please, please bear with us for a few weeks whilst we find new premises and re start our operation.
"This may take a few weeks as we will have to beg, borrow or steal new equipment, saws, compressors, air frame guns, sewing machines etc."
So far, there have been no reports of any injuries and the fire was contained to the warehouse itself and didn't spread to any other properties.
Anyone with information should contact police on 0161 856 9080 or the independent charity Crimestoppers, anonymously, on 0800 555 111. 
Images courtesy of Oldham Sofa Co via Facebook, with thanks.