The re-opening of Manchester's Oxford Road has been delayed – amid fears that more sinkholes could appear.
A six-metre deep crater opened outside Royal Manchester Infirmary on August 29, causing closures while the collapsed Victorian sewer underneath the road was fixed.
And with the discovery of more 'defects' under the surface, the date for re-opening the road has been pushed back.
A Manchester City Council spokesman said: "We have identified a number of defects beneath the carriageway which could lead to more serious problems if left unchecked.
"A stretch of Oxford Road will remain closed while we carry out work to resolve these issues but we are keen to cause as little disruption as possible and plan to reopen the road as soon as this work has been completed."
Initial estimates suggested that a 200-metre stretch of the carriageway would be closed for three weeks – but that time is set to be extended.
United Utilities have deployed a 'sewer-bot' and a ground-penetrating radar survey to investigate the cause of the issue.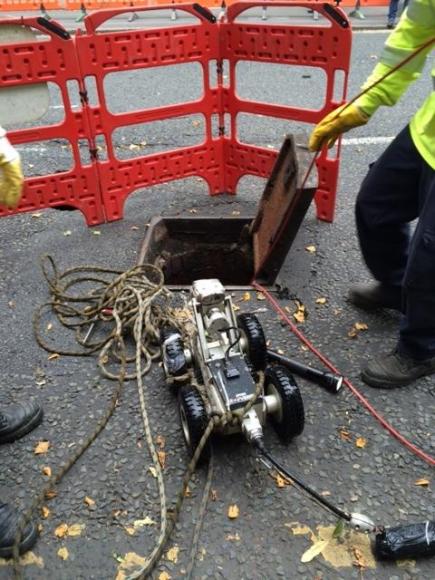 ROBOT IN THE HOLE: United Utilities have sent a sewerbot down to investigate the cause of the issue
They have discovered 'additional voids' in the surface which could see a risk of more damage in the area – and have since handed the site back to the council with a date for re-opening to be confirmed.
Polly Rourke of United Utilites said: "Our sewer repairs in Oxford Road are now complete, but during our works we identified a number of issues in the carriageway. 
"Manchester City Council is now dealing with this."
Manchester University is urging students to 'allow extra time for car and bus journeys and to keep abreast of information and advice during the closure period'.
Oxford Road is one of the busiest bus routes in Europe and a number have been diverted in the wake of the closure.