When Sir Charles Halle died suddenly in 1895, his funeral procession brought Manchester city centre to a standstill.
It's been 120 years, and St Peter's Square has ground to a halt once more.
But although the city is being held up by Metrolink rather than mourners these days, the spirit of the great composer is still alive in the city he made his home.
Rising above the hubbub is Manchester Central Library, recently refurbished to combine the best of tradition and innovation inside its iconic facade.
Now playing host to an archive exhibition to commemorate the life and musical legacy of Halle.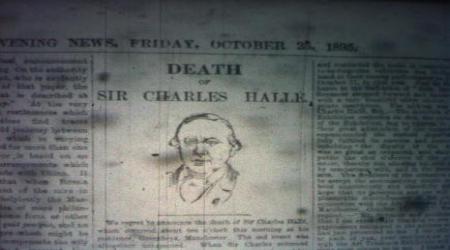 SIR CHARLES HALLE: A newspaper article announcing his death
The display is the work of the combined forces of the Halle Concerts Society and the RNCM, each has donated treasured artefacts from their archives which give a rare insight into the working life their remarkable founder.
Historians and music lovers alike will be able to pour over Halle's memorial concert programme from 120 years ago; a concert he had started to rehearse himself before a stroke cut his life short.
Also of interest will be the catalogue of Halle's music library, a working document that he had complied over 35 years of performing and conducting in Manchester.
Part of the great funeral procession to Weast Cemetery, where Halle was buried, were the Halle Chorus – known today as the Halle Choir – who reportedly sang an a capella farewell at the graveside.
The minutes of the choir's meeting following the sudden death of their conductor are also part of the display in the Central Library.
The legacy of Sir Charles Halle is plain to see; the man who helped to institute musical education in the north of England was a visionary.
Eleanor Roberts, the Halle Concerts Society Archivist described Halle's musical choices as pioneering.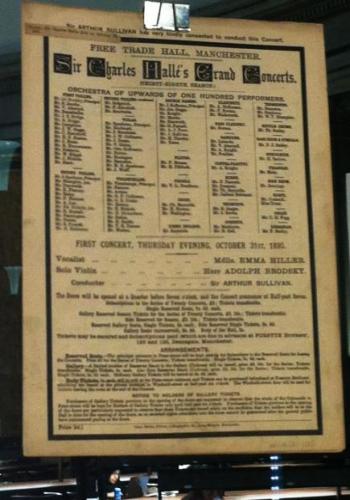 MEMORIAL CONCERT: Sir Charles Halle's programme
"Halle introduced Dvorak's New World Symphony, about a year after it had been composed – he took risks," she told MM.
"He used to start by playing an extract of something and then introduce the full works, and he would introduce new music by saying 'repeated by popular demand', whether it was true or not, we will never know!
"He was a remarkable man and today we still have the orchestra, the choir and the college, thanks to his efforts."
One thing is for certain, Manchester owes a great deal to one of its musical founding fathers, a man who was as much a cornerstone of the northern music scene as The Smiths or Factory Records.
Find the display case on the first floor of the Central Library, in the Reading Room and keep an on the Twitter for #halle120 where the institutions will be sharing more insights into Halle's work over the anniversary period.
Image courtesy of Halle via. YouTube, with thanks.