A protest was held in Manchester last night against police brutality in Nigeria and to honour those killed for protesting in the country.
A video which allegedly shows SARS officers killing a man in Nigeria went viral two weeks, ago sparking protests across the country and beyond.
Manchester protestors gathered at Piccadilly Gardens at 6PM and lit candles before marching to St Peter's Square and back.
Dulano Edwards, one of the protestors, said: "[It] was truly a magical night where you could clearly see the community all coming together in Manchester.
"As I have a lot of Nigerian friends, I thought it was my place to stand up and use my voice for those who have lost their lives to this organisation."
After the march, protestors held a one-minute silence to remember the protestors killed in Nigeria.
They then listened to people give speeches and Mr Edwards said that he could see the passion that people had for this cause.
The protestors, estimated by those present to number in the hundreds, chanted: "End SARS now", and "Buhari must go".
The Special Anti-Robbery Squad (SARS) is the controversial branch of the Nigerian Police Force, established in 1992 to tackle crimes such as robbery and firearms offences.
Muhammadu Buhari, the president of Nigeria has been widely condemned following the alleged deaths of protestors.
Amnesty International stated that at least 12 people were killed by Nigerian government forces at Lekki toll gate, although the government denies any deaths occurred.
The government also claimed that the footage which sparked the protests was fake and arrested the person who released it.
Protests have been held across the world in solidarity with those in Nigeria, with 15 more scheduled across Britain between 23rd-25th October.
Similar protests have also occurred across Europe, the US and Canada.
Various celebrities have tweeted in support of protestors.
Star Wars actor John Boyega tweeted: "Three years ago Nigeria's police chief re-organised SARS after public condemnation about the violence that came with their operations.
"That change has done nothing for Nigerians and today many are still in danger. #EndSarsProtests".
Footballer Mezut Özil also tweeted his support, stating: "Horrible to hear what's been going on in Nigeria.
"Let's make this a trending topic everywhere #endsars".
Maisie Faughey, another Manchester protestor, said: "I got involved because young people are being brutally murdered in Nigeria by the people who are meant to be protecting them.
"It's important that we stand together because Africa is in need of help and our voices must be heard."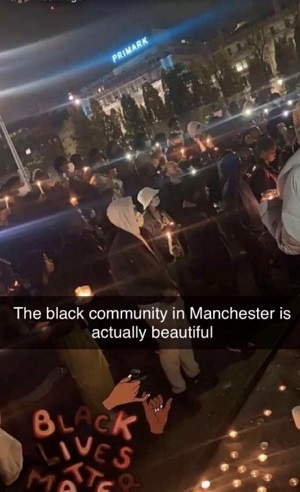 Image Credit: Dulano Edwards