Northerners are seriously in the minority as the area's population in proportion to the rest of the nation has hit a 200-year low, statistics reveal.
Lower labour productivity, a lack of jobs, and household incomes markedly below the national average have caused masses of young people to migrate south.
Withington MP John Leech feels that amidst the Office of National Statistics figures, much is being done to reduce the North-South divide.
Mr Leech told MM: "I want to narrow the gap between North and South. That is why I support recent announcements like HS2 and HS3 – more power being devolved to Greater Manchester to make its own decisions, and tax cuts for lower paid workers."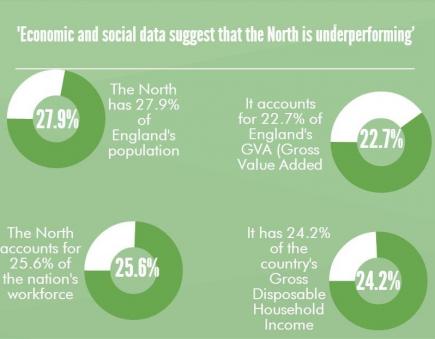 UNDERPERFORMING? Northern statistics broken down
The ONS figures show that between 2001 and 2013 the North's population increased by 762,000 and last year it reached 15.1million.
However this number accounts for only 27.9% of England's population – a percentage it had not dropped back to since 1821.
Economic and social data suggests the North is underperforming with its Gross Value Added (22.7%), workforce jobs (25.6%), and Gross Disposable Household Income (24.2%) all below its share of the population.
Additionally, the economic downturn has hit the North harder than the South with unemployment rates pulling apart again in recent years, having started to converge at the start of the century.
All these factors have caused young people to leave the region to seek better career opportunities with 23,831 more people aged 21-30 moving southwards than northwards last year.
This is a trend that Manchester Metropolitan University Student Union hopes to address by ensuring students have a positive experience of the city during their studies.
Sarah-Beth Cooper, MMU Student Union's Community Officer, told MM: "I hope our students can gain the most valuable experience of Manchester's communities whilst they study, develop and eventually graduate.
"I would hope that their community engagement whilst studying here at MMU will flourish their personal interest in the community, as well as support their decision in enduring on their desired career path and ultimately their decision where they live after graduating."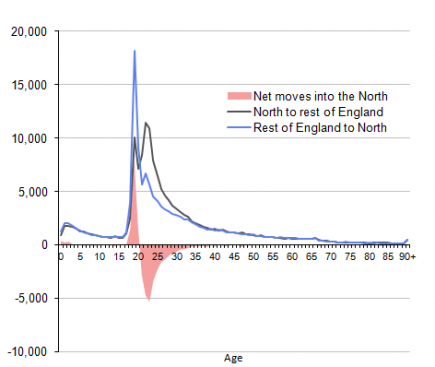 MIGRATION SITUATION: Moves to and from the North (Graph courtesy of ONS, with thanks)
The trend of young people associating the South with better opportunities is also one Mr Leech feels can be overcome by the recent policy debate on how to improve the economic performance of the North.
"My job is to help encourage young people to stay in Manchester and get good quality jobs," he said.
"Youth unemployment in Manchester is down 50% in the past year and 1,600 new apprenticeships have been created since 2010."
David Cameron backed proposals to connect major cities and digital technology industries in the North last month.
Nick Clegg put forward the concept of TechNorth, which would allocate capital to northern businesses to link start-ups and potential investors.
The announcement of the Deputy Prime Minister's plans coincided with a report by Sir David Higgins which proposed a second phase of HS2.
HS3 would connect major northern cities, cutting travel time by half on some journeys.
Image courtesy of John Williams with thanks.