End of the line: No additional timetabled services for festive rush say Northern Rail.


Northern Rail have confirmed that they are not operating an additional train service during the festive season, the company today confirmed.
A freedom of information request obtained by Mancunian Matters revealed that the company is not running extra services in December to cope with any Christmas demands.
It comes as Commercial and Customer Director Mark Powles told The Business Desk on Tuesday that revenues were 95% of pre-covid levels up to two weeks ago, but had experienced a 'sluggish' start to the week.
Adam Blackford, 58, who regularly commutes between Bolton and Manchester Piccadilly reported crowded services in the run up to Christmas: "I've been struggling to get a seat in the evening for the past couple of weeks. Everybody's going home from the Christmas markets- it's packed!"
Sandra Holmes, 49, from Stockport echoed his comments: "When the doors open it's like trying to get to the front at a rock concert- why are they not putting on any extra trains? It's only going to get worse now that people are breaking up for the holidays."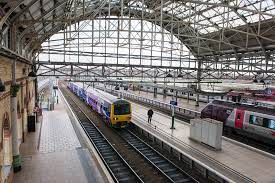 Northern Rail they are taking ad-hoc steps to cater for passenger demand, rather than altering the timetable as a whole.
A statement issued by the operator said: "We are working through on a week by week basis the passenger numbers/loaders for routes/specific trains and either strengthening where possible on services/ lines of route identified as causing an issue or running a crowd buster."
The company explain that a crowd buster is an un-timetabled service added on the day itself.
However, an employee of Northern Rail, who does not wish to be named revealed: "The only line which they've added to is Stoke on Trent. You would have thought it would go quiet because of covid, but it hasn't."
Northern Rail also point out that they are running additional services as a whole compared to 2020 due to improvements in train crew resource availability.