A legendary Manchester Hacienda DJ spearheaded a gig at Barton Moss in support of the anti-fracking protests this weekend.
Dave Haslam, who played at the Hacienda more than 450 times, performed to more than 200 people at the Eccles site on Sunday.
A range of supporters enjoyed a day of festivities which included an eclectic 30-minute set from Mr Haslam, which kicked off with the brass version of Jerusalem before transitioning into Haslam's preferred Acid House beats.  
He told MM: "The gig was brilliant. There is a lot of conflict and pain being experienced at Barton Moss but music brought positivity and solidarity for a range of ages.
"When DJing it is your job to bring the whole crowd together."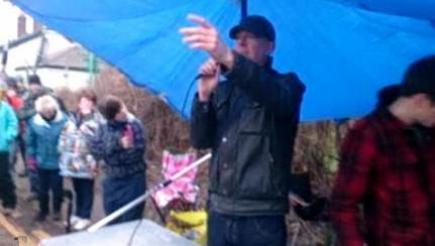 FIRING UP THE CROWD: Dave Haslam kicks off Gig at the Rig
The event arranged by Northern Gas Gala was nicknamed FRAC 51 as a nod to the iconic Manchester club which Mr Haslam was a major part of.
Ravers of all ages flocked to a layby on the A57 where Mr Haslam dropped house mixes as well as including Manchester classics from the likes of Joy Division.
"I started off my set by playing the brass band version of Jerusalem and I distributed the lyrics which allowed the whole crowd to sign along," Mr Haslam added.
"I really enjoyed playing to all the smiling faces and even recognising some of the faces I had seen on the internet. It was really nice to entertain them and I hope they are now reenergised to continue the protests."
The crowd ranged from young families to veteran campaigners who all enjoyed the rave in their separate ways.
The Manchester University graduate serenaded supporters from a makeshift DJ booth which overlooked hundreds of smiling campaigners.
Mr Haslam deployed beats which ranged from Voodoo Ray, to Good Life and Joy Division's Salford classic Love Will Tear Us Apart.
"The positivity here is amazing," he told the crowd.
"If we can make it happen in a layby we can make it happen anywhere."
The former Hacienda resident was asked to perform after organisers discovered he was a supporter of the anti-fracking protests.
"I have been taking an interest in the anti-fracking protests which has left me dismayed at the treatment of the protestors by the media and police," he added.
"It is unfortunate that GMP have allowed themselves to cooperate more with big commercial companies rather than protecting the interest of local people who have the right to protest.
"There is evidence of GMP's conflicts with protesters all over YouTube."
Protesters against the fracking proposals have been camping at the site since the end of November – and clashes with police have increased in frequency and intensity.
"The odds are stacked against protestors as the police, Government and nergy companies are all PR machines and have a lot of money to spend," he told MM.
"Whereas the protestors only have their passion and I think that is well worth supporting."
Campaigners have s been camping out at Barton Moss for three months, protesting against drilling being carried out by iGas to explore the potential reserves of shale gas below the surface of the earth.
The Barton Moss site, which has been the centre of much controversy, was host to only protesters for the first time in a while.
The site has been filled with protestors who argue that fracking is a dangerous way of extracting fossil fuels.
He explained: "I think we are a long, long way from being able to say that fracking is safe.
"Until we can say that fracking is safe I don't understand why we are taking risks with the environment and we are potentially disrupting communities and poisoning the water supply.
"I think that the onus is on the frackers to prove that what they are doing is safe and the only option. I don't think that either is the case yet.
"Until that is proven, I think we have every right to be suspicious of what is going on."
Main image courtesy of Frack Off via Twitter, second image courtesy of Gig at the Rig via Bambuser, with thanks.