Manchester campaigners took to the streets to march against cuts to NHS Bursaries, which could leave healthcare students with as much as £60,000 of debt.
Activists marched from University Place down Oxford Road and towards the John Owens building, starting at 12:00 today.
Members of Save Our NHS Manchester, Free Education MCR and University of Manchester Students' Union organised the midday rally to raise support for nursing, midwifery and allied healthcare students, whose bursaries will be scrapped from 2017.
Holding banners reading 'Health Not Wealth' and handing out flyers, they chanted 'No ifs, no buts, no education cuts' and 'Save our NHS' throughout the protest.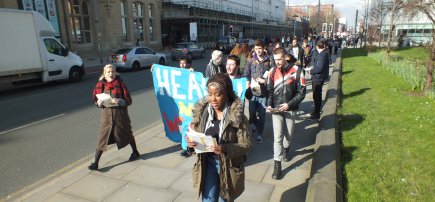 'TAX THE RICH': A campaigner said education should be funded by taxing the wealthy and big businesses
They called the cuts an attack which only increases the crisis of understaffing in the NHS and prices people out of education.
The demonstration ended with a speech from Campaigns Officer at the students' union Hannah McCarthy, 23, and a 'solidarity' group photo.
Hannah described education as a 'social good from which everyone benefits' that should be paid for 'by the taxation of the rich and big business'.
She said: "NHS students don't receive this bursary out of nowhere; it is what they are entitled to.
"We should defend and demand an increase of the NHS Bursary as a right, not a privilege.
"We've seen from research that we've done with the students union an increasing amount of students relying on food banks and payday loans to fund themselves.
"They do thousands of hours of work for the NHS each year and they should be paid by the government to do so.
"They shouldn't have to go into thousands of pounds of debt in order to then work for free."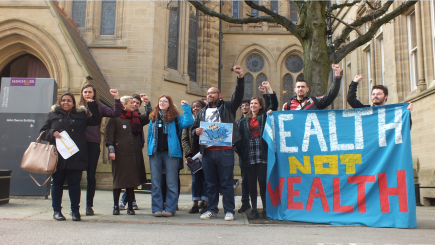 HEALTH NOT WEALTH: The campaigners called for the government to put 'students before profit'
Hannah also called on the university to do more to help those who will be affected by the cuts. 
"They should not only be fighting the government's decision to cut the bursaries, but in response, upping the amount of bursaries that they give to students," she said.
"It made a profit of £46 million last year. It has the money to do that, therefore we should demand it does that, and that it puts its students before profit."
Today's rally was part of a wider campaign against government healthcare cuts, closures and privatisation.
More events and campaigns can be found at http://manchesterstudentsunion.com/saveournhs