Bury beauty and glamour model Rhian Sugden has saved the life of a cancer-suffering fan.
The stunning blonde stars in a sexy video for the Male Cancer Awareness Campaign aimed at raising awareness of testicular cancer.
At first she appears to seductively tease the male viewer in the saucy video, before shockingly producing a prosthetic scrotum from her knickers.
She then explains to men the correct way to check for lumps or swellings and the importance of going to the doctor as soon as possible if they find any.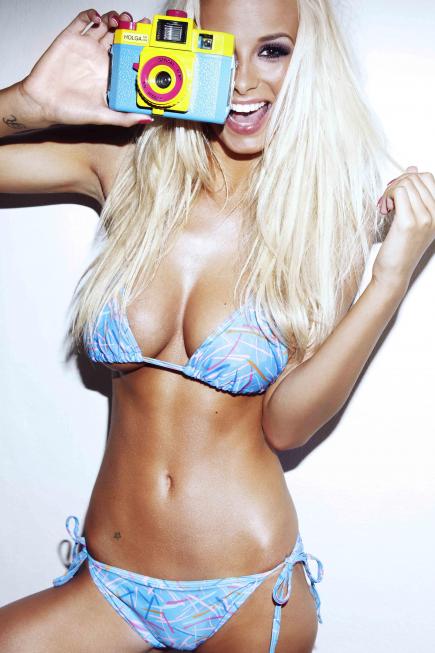 SNAPPED: Sexy Rhian Sugden gets behind the camera
Frederico Cardoso followed her advice and discovered he had cancer. After receiving treatment, the 31-year-old picture framer credits Rhian with saving his life.
Talking to MM about her involvement with the Male Cancer Awareness Campaign (MCAC), Rhian said:  "I wanted to get involved with a charity where I felt like I could make a difference.
"I have raised money for so many different charities over the years: Help for Heroes, Breast Cancer, RSPCA, all of which was very rewarding.
"But I felt like I could be targeting more people rather than just raising money. I wanted to raise awareness.
"With my job my main target audience is already a male fan base. So it was a perfect opportunity to reach out to those people who follow what I do, and in effect, potentially save lives."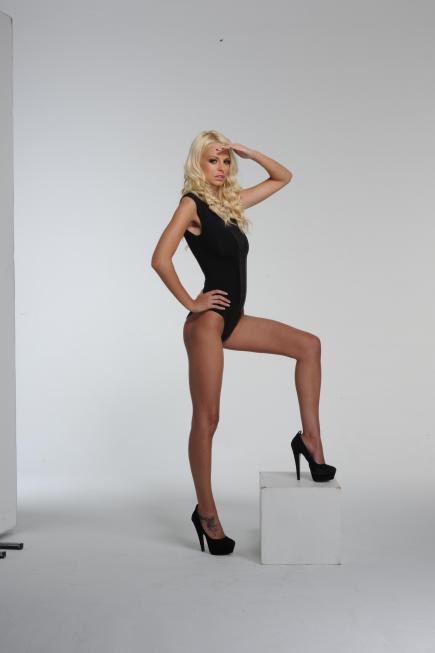 THIS CAMPAIGN HAS GOT LEGS: The pin-up shows off her pins
The 27-year-old pin-up said she helped to come up with the idea of making a video for MCAC after featuring in the 'Rhians got Balls' campaign.
"The founder of the charity Patrick Cox and I flew out to South Africa and did a 'Rhian's got Balls' campaign, where I was doing eye-popping challenges to help raise money for the charity," she said.
"I swam with great white sharks, the longest zip wire in the world, went paragliding and skydiving!
"All of which was amazing but we wanted to do something more to raise awareness and not just funds.
"Rankin (the director) and his team helped come up with the video idea but it was something we had discussed and put to them.
"Obviously when I got the script of what I was actually doing I was a bit taken back, as anyone would be! 
"But it was for a good cause, it's very effective because it draws people in to watch it and pulling that…very real looking ball sack out of my undies is the last thing they would expect.
"I love watching people's reactions!"
Frederico saw the ad purely by chance while watching a programme on You Tube videos with his flatmate one evening.
He told MM: "I saw the advert on TV of this girl and the next time I went to shower I decided to check myself.
"To my horror, I found a lump. I had not felt any pain or felt ill or anything before finding this lump."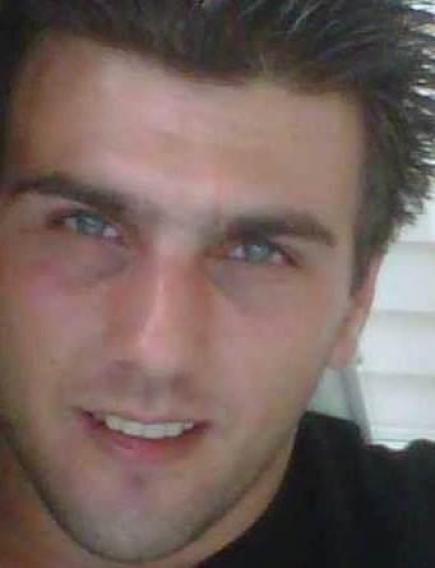 BEFORE: Frederico before receiving treatment
Taking the advice Rhian gives in the video Frederico then went straight to his doctor.
After an examination he was sent for an ultrasound and then given the terrible news he had been dreading – 'you have cancer'.
"The urologist told me I had a large tumour, the cancer was already at stage two and had begun spreading to the lymph nodes," said Frederico
"They were also worried it may have spread to my lungs, but fortunately that was not the case."
Frederico had the affected testicle removed and underwent a course of chemotherapy treatment.
Happily, just two weeks ago he was given the six-month 'all clear' by doctors.
"My oncologist told me: 'that ad saved your life'", a happy and grateful Frederico told MM.
"If it were not for Patrick at malecancer.org and Rhian's video I would not be here now."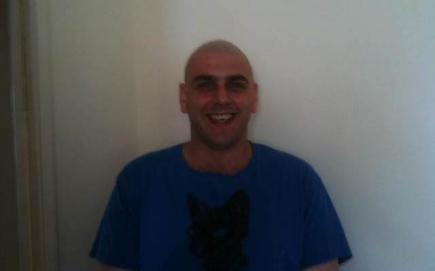 AFTER: Frederico after chemotherapy
Frederico had the opportunity to thank the "very beautiful" Rhian when they both took part in a charity walk organised by MCAC.
Speaking about meeting the gratefuI Londoner, Rhian said "I got to meet Frederico and I have never felt so overwhelmed than to have met someone whose life I helped saved.
"He was very thankful and it was very gratifying knowing I had made a difference, even to just one person's life!
It's such an amazing feeling and I hope there are more out there."
Rhian and Patrick are still 'plotting different things' in aid of male cancer awareness, but Rhian is not sure if there will be another video:
"Maybe in the future we will come up with another video idea, but I keep thinking why ruin a good thing with a not-so-good sequel! "she laughed.
"The first one is working and doing exactly what we wanted it to. But who knows…we will see"
Meanwhile, Frederico is happy getting on with a life he may not have been around to enjoy were it not for that chance viewing of Rhian's advert.
"If it weren't for Patrick, Rhian and Guy's hospital I would probably be dead," said the Portuguese cancer survivor.
"Now I realise I can do so many things…"
Every year around 95 men are diagnosed with testicular cancer in Greater Manchester.
In line with the general north/south divide in relation to cancer incidences, the Manchester rate of testicular cancer is higher than the London average (7.2% and 5.1% respectively).
The Manchester rate is similar to the English average at 7.2% and 6.9% respectively.
Main image courtesy of Max Von Tucker via Youtube, with thanks.
Other images courtesy of MCAC and Frederico Cardoso with thanks.