The 874 mile trek from John O Groats to Lands' End has become a popular challenge for those wanting to raise money for charitable causes, or those simply in search of an adventure.
With the former very much in mind, the PC Nicola Hughes Memorial Fund has organised an event with a difference, to celebrate the life of the 23-year-old Greater Manchester Police officer murdered by Dale Cregan.
Nicola, from Oldham, was shot dead while on duty alongside her colleague Fiona Bone, back in 2012 by the one-eyed killer.
Nicola's devastated father, Bryn, is the charity's figure head and he has come up with the idea of a continuous baton relay to cover the entire length of the country.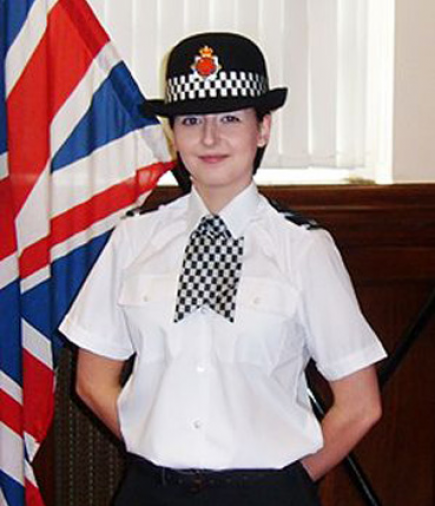 GUNNED DOWN: Nicola was one of two police officers lured to their deaths by Cregan
"All these ideas are my own mad brainwaves," he told MM.
"You still get a lot of demons, particularly at night. You spend a lot of time awake thinking, and you come up with these plans and you think 'oh that could be a good idea'.
"You've got to make the challenges a bit different and put your own personal spin on what you're doing. It's how you raise money and get the word out.
"When I thought about how we could spread the word from north to south, John O Groats to Lands' End jumped out at me.
"And we are going off the back of the Run to Remember, where we had everyone running 2 miles a day, no matter where they were in the country."
This baton relay will be non-stop for six days and it is hoped that over £10,000 will be raised for the charity.
The money raised will be used to provide learning opportunities and pre-employment skills to those under the age of 21, who have lost family members through violent crimes. 
Bryn has also registered the fundraiser with Guinness World Records in a bid to achieve both the fastest continuous baton relay and the fastest time travelling from John O Groats to land's End.
This would mean that both the memorial fund itself and the team taking part would have their own individual world records.
"The response has been really positive. I'm well aware that a lot of people and charities are asking for money, so you have to make it impossible for people not to want to take part. It has to give them that feel good factor," he said.
"With the run that we had last year, the support and the comments from that were fantastic. People were talking about losing weight and getting stronger. That's what we want.
"Most of them were police officers. When they were running on their own, it gave them time to reflect. It gave them that solitude and peace, and the time to think 'it could have been me or someone I know'. It really could have been anyone."
Nicola and her colleague Fiona were lured to a house in Mottram, Greater Manchester, following Cregan's bogus call about criminal damage.
As the police officers were walking up the garden path, the British drug dealer, who was also wanted for a double murder, gunned down the women with a shower of 32 bullets, before throwing a grenade at their bodies.
The heinous crime sent shockwaves across Greater Manchester and the country, with thousands of police officers attending the funeral service.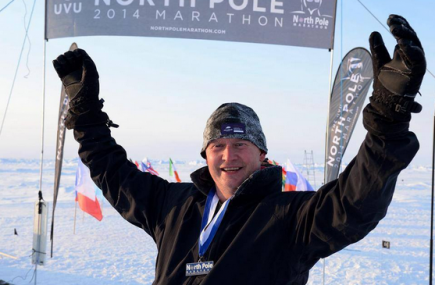 MARATHON MEMORIAL: Bryn also completed the North Pole Marathon in his daughter's memory
"I don't think you ever come to terms with it. You don't get over it. You just get on with it," said Bryn.
"You've got two choices afterwards. You either give up and become a recluse and withdraw into yourself, sit at home looking out the window and wondering what if.
"But I know for a fact Nicola wouldn't want that. She would say get yourself out of bed, get yourself smartened up and do something. Don't waste something that she has lost.
"Everyone loses people. We know that and usually in the normal process of things, you come to a natural end as an old age pensioner and it is accepted. It's still sad, but it's accepted.
"But what you don't expect is someone as young as Nicola to so cruelly and violently lose their life, and what it leaves behind."
Bryn talked about the important role that the charity plays, not just in helping others but in helping himself.
"It means a huge deal because it's about Nicola and that has given me a sense of purpose. Life will never be the same again, but it's what I make afterwards that counts and how many people I can help," he added.
The baton used in this race will contain a GPS tracker. Every time a participant completes their two-mile stretch, that information will be sent electronically to the control room, where the entire operation will be monitored.
A quarter of the stages were sold in the first three days and Bryn wants more people up and down the country to take part, so that they can carry out their vital work.
The memorial fund is currently looking at helping six children who have all lost their mums, and Bryn told us that they rely heavily on word of mouth and referrals by police officers to reach those they are trying to help.
"We are buying one of the kids a laptop so he can carry on doing his homework," said Bryn.
"Since his mum died, he hasn't been to school, so this will help him to do his work at home and get back into things.
"It is so easy for them to hide under the covers and think 'I just can't be bothered anymore'. I've seen it happen, so this is a way to stop that.
"Or to be able to buy a child their own school uniform would be incredible. We all know that children can be cruel, and if mum or dad aren't there and they are wearing hand me downs, it makes them stand out for the wrong reasons.
"It is bad enough that they are standing out anyway because a family member has been murdered. They shouldn't have to suffer for the rest of their lives. They need to be able to go to school and feel normal and eventually get a job and create a life for themselves."
The PC Nicola Hughes memorial fund has been extremely active since its creation, particularly due to the efforts of Bryn and his son Sam, who are both taking part in the relay.
Events set for this year include the New York marathon, a half marathon, the 3 peaks challenge and a free place in next year's North Pole marathon, which Bryn completed last year.
There will also be the return of the charity ball at Old Trafford, which launched last year and raised over £30,000.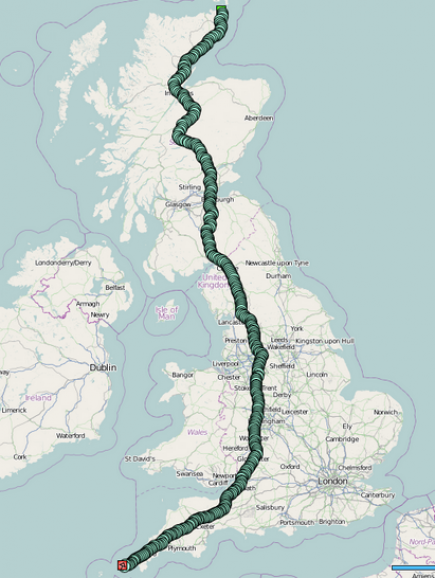 WORLD RECORD SETTER: Bryn hopes to achieve the fastest continuous baton relay
Bryn hopes that he will be able to use the platform of the gala to formally announce the world records.
He added: "Our logo is a butterfly because Nicola loved butterflies. Every time I saw her she always had her butterfly necklace on. I'm looking at a picture of her now and she is wearing it.
"But also consider the butterfly effect. If we as a charity flap our wings for a small child now, who knows what they will achieve in 10 years, who they could become.
"They could be tomorrow's nurses or tomorrow's police officers. They can be anybody they want to be and we have to give them the chance to do that and the choice to do that."
For more information, click here.