A vote to decide on the design for a new statue of Emmeline Pankhurst has opened – with more than 3,000 already cast.
Manchester Art Gallery are currently exhibiting scale models of each one of the potential six designs until voting closes in the first week of April.
The final construction is set to be unveiled in St Peter's Square in the city centre on International Women's Day 2019.
All in all, £300,000 needs to be raised to fund the project with not one penny coming from public funds in Manchester.
The campaign is being run by WoManchester Statue Project, whose chair, Councillor Andrew Simcock (pictured below), told MM: "We need to raise the bulk of the funding, so I'm meeting with crowdfunding experts who believe this to be a project that many people in Manchester will want to get behind."
Simcock himself cycled 1,059 miles from Land's End to John O'Groats two years ago, raising £2,500 towards the development.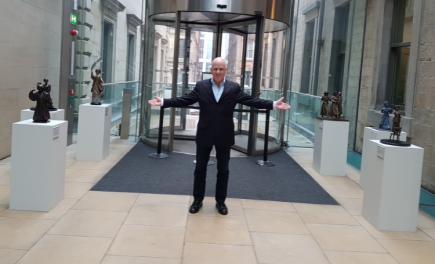 VOTING TIME: There are six different designs to choose between
With Chancellor Philip Hammond announcing in last week's budget that £5million would be made available for projects which mark the first women getting the vote, the campaign is hopeful that some of that will be made available for the Pankhurst statue.
The Moss Side-born activist was born in 1858 and is responsible for founding the Women's Social and Political Union.
The group's first meeting was held at Pankhurst's home in Chorlton-on-Medlock in October 1903.
One if its most dynamic members was Emily Davison, the suffragette who threw herself under King George V's horse at the Epsom Derby in 1913 in protest of women's rights.
When asked whether women are represented fully in important political roles, Cllr Simcock said: "Out of Manchester City Council's 96 members, 47 of them are women from diverse backgrounds.
"The feedback we've received from current voters is very much to do with furthering rights for women and we hope that the building of this statue will help accelerate that progress."
At present 16 out of the 17 statues in the city centre are of men, with the exception of Queen Victoria in Albert Square.
It's now been over 100 years since a statue of a woman has been installed in Manchester.
Pankhurst came out on top in a public poll run by WoManchester Statue Project in 2014 to decide which woman would get a statue in the city.
The other candidates were Ellen Wilkinson, Elizabeth Gaskell, Louise Da-Cocodia, Elizabeth Raffald and Margaret Ashton.