Happy Mondays star Bez has targeted fracking as the 'biggest challenge that the country has faced since the Second World War'.
Bez, real name Mark Berry, set up the Reality Party earlier this year and the music man, famous for his maracas, is bidding to shake up local politics by aiming to become the MP for Salford at the next General Election.
Speaking at today's local council election, Bez said that the Reality Party are trying to increase the awareness of the issue, which he claims has been ignored by the mainstream media.
"We don't expect to win today as we've such little time to prepare – but we're hoping to register people's voices," he said.
"The main thing we are standing against is fracking because we consider that to be the biggest issue we've ever faced as a country since World War II.  
"It's our responsibility to wake people up and let people know this ain't a wonderful new energy that is going to make our nation richer and taller."
However, Bez did insist that the party is not solely focused on the issue of fracking.
"It's about the fracking – but there are other issues going on in Salford as well," he said.
"There is no more legal aid so people can't fight for their rights anymore.
"People can't fight a big corporate business in court anymore, which means corporate businesses get free reign over everything and anything they want to do."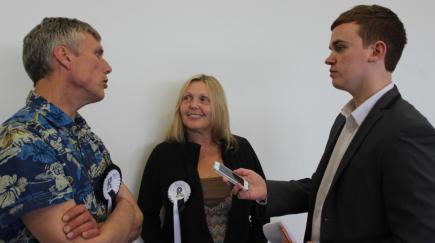 HAPPY FRIDAY: Bez and Reality Party candidate Jackie Anderson speak to MM's Mike Taylor
Jackie Anderson, who stood for the Reality Party in Irlam, finished third in the election receiving 370 votes that was won by the Labour party candidate Roger Jones who claimed 1,177 votes.
Anderson was pleased with the performance in the election – having only had a short period of time to put together a campaign – and wanted to show voters the party are here to make a difference.
"The most vulnerable people in Salford are getting ignored at the moment and, unfortunately, they're probably the ones who don't vote as well," she said.
"We want to get the word out to show people we are here to make some changes."