A little girl who battled a rare form of cancer is the inspiration behind a charity bike ride from Manchester to Blackpool.
Chris Minshall, a Stretford Mall worker, will be hitting the road and peddling the 60 mile journey to honour the bravery of his cousin's daughter, Emilie Austin, and raise some cash.
The four-year-old fought back from the brink of death after being diagnosed with a rare strain of the disease, which resulted in her having a liver transplant, in 2012.
Chris said: "I'm going to honour a family tradition and cycle from Manchester to Blackpool as my dad did the same route 10 years ago to raise money for a charity that helped my brother, who has spina bifida."
This is just a warm up though as Chris plans on expanding his fundraising efforts by cycling from Calais to Amsterdam next year.
He explained what inspired him to take part in this fund raiser and said: "Emilie had just returned from holiday with her parents when they noticed a lump on her side when she was aged two.
"She was all right in herself and wasn't feeling sick or under the weather, but they took her to the doctors to get her checked out.
"Soon afterwards, they discovered that Emilie had a very rare form of cancer that affected her liver and had spread to other parts of her body."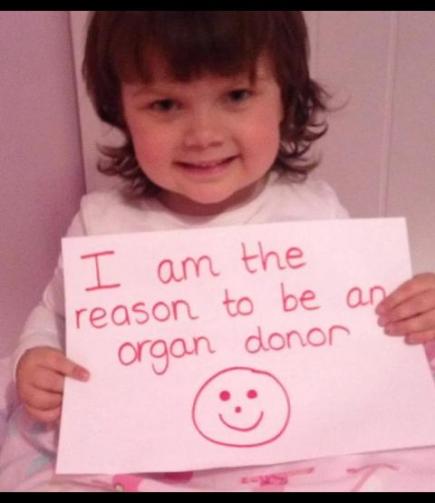 DONATE: Emilie battled a rare form of cancer at the age of two
 
The 28-year-old, who works as a sales associate at the 3 Store in Stretford Mall, said doctors told the family to say their goodbyes to the toddler.
But following several months of treatment Emilie is now in remission and the bubbly youngster continues to go from strength to strength.
"She spent months having treatment including a liver transplant and chemotherapy, but at one point it was touch and go and doctors told her parents to expect the worst and say their goodbyes as they weren't sure whether Emilie would make it," he said.
"She proved them wrong with her determination and although she still has to have regular tests and check-ups, her cancer is in remission."
Colin McCrory, Stretford Mall Manager, said: "Chris's bike ride is in aid of a terrific cause and we are all so glad to hear that Emilie is doing so well.
"I would urge our very generous and loyal shoppers to sponsor Chris if they can and wish him all the best with his training for this event."
To sponsor Chris, call into the 3 Store in Stretford Mall before he takes on his cycle challenge on September 7.
Images courtesy Ceidiog, with thanks