A Manchester climate change expert has branded Energy Secretary Amber Rudd's speech an example of the 'inconsistencies' between government promises and actions that 'undermine' the credibility of leadership.
Ms Rudd promised government commitment to taking action on climate change when in recent weeks George Osborne has announced a number of policies that will increase the country's emissions.
Subsidies for onshore wind farms and commercial solar energy – the two cheapest forms of clean energy – have been scrapped.
The Chancellor of the Exchequer also ended tax breaks for 'green' cars, slashed the energy efficiency budget, abolished rules on zero carbon housing, lowered taxes on polluting firms and introduced a tax on clean energy.
Meanwhile Ms Rudd today said: "We are committed to taking action on climate change and we are clear that our long-term economic plan goes hand in hand with a long-term plan for climate action.
"Climate action is about security, plain and simple – economic security. If we don't act, it will become increasingly hard to maintain our prosperity, protect our people and conserve our countryside.
"The economic impact of unchecked climate change would be profound. Lower growth, higher prices, a lower quality of life – not to mention many properties and businesses at higher risk from flooding and extreme weather.
"So I see climate action as a vital safety net for our families and businesses. Protecting our homes, our livelihoods, our prosperity. It is the ultimate insurance policy.
"That is why we are committed to meeting our climate change targets."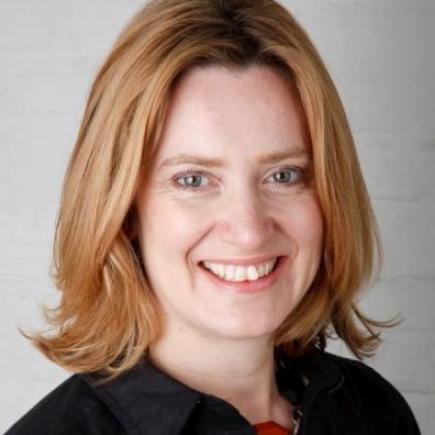 'COMMITTED': Amber Rudd assured that the government is dedicated to meeting 2020 energy targets (©Wikipedia)
Dr John Broderick, of the Tyndall Centre for Climate Change Research at the University of Manchester, said government's words and actions failing to match up could spell disaster for both our environment and our economy.
He said: "Inconsistencies between words and actions undermine the credibility of leadership.
"We require more than incremental change so it is short sighted to abandon policies that stimulate new energy industries or guarantee high performance infrastructure.
"Back-tracking from government directly and indirectly increases the costs and difficulty of avoiding dangerous climate change."
The head of the DECC also discussed the need for those on the right of politics to engage with solving the climate change problem, recalling that it was the Iron Lady who first called for action.
She said: "It cannot be left to one part of the political spectrum to dictate the solution and some of the loudest voices have approached climate action from a left wing perspective.
"So I can understand the suspicion of those who see climate action as some sort of cover for anti-growth, anti-capitalist, proto-socialism.
"But it was Margaret Thatcher who first put climate change on the international agenda.
"She told the World Climate Conference in 1990 that 'the danger of global warming is real enough for us to make changes and sacrifices, so that we do not live at the expense of future generations.' I agree."
But Dr Broderick said if the government doesn't act now and quickly on climate change they will be taking risks Mrs Thatcher never would have allowed.
He said: "The message from the scientific community is that we need a new energy system in the next two decades to achieve the economic and ecological security that Amber Rudd speaks of.
"Anything else is banking on geoengineering on a global scale, a very risky and uncertain strategy that would never be allowed under Margaret Thatcher's famous 'life tenancy'."
And Frank Geels, Professor of System Innovation and Sustainability at the university, also took issue with Ms Rudd's comments that the left dominate the climate change debate.
He suggested that, in fact, without the Lib Dems to keep the Conservatives in check, the government have adopted energy policies that favour Osborne's 'long game' to 'water down' the Climate Change Act.
He said: "The recent policy announcements should be seen as part of a longer political trend, partly driven by the right-wing of the Conservative party and partly by the Treasury, which has tried control DECC for several years.
"No longer constrained by the Liberal Democrats, the new government was able to continue this trend with new energy."
Ms Rudd's speech certainly favoured private businesses but as a means to drive energy prices down in a competitive market and further economic security.
She said: "If we act in the right way by backing business and helping them grasp the opportunity that clean growth represents – we actually improve our economic security, improve our prosperity, and improve our way of life.
"The bottom line is this – if we are acting on climate change to preserve our economic prosperity, we have to make sure that climate change action is pro-growth, pro-business.
"That is why our approach will keep the costs of bills down and encourage businesses to innovate, grow and create jobs.
"If we act in the right way, decarbonisation supports our other priorities.
"By focusing on storage and reducing energy demand, not just generating more energy, we also help to meet our energy security needs."
The 'storage' referenced by Ms Rudd is carbon capture and storage (CCS), a method of achieving further decarbonisation, introduced a few years ago along with the increased use nuclear power as part of the Levy Control Framework.
The ECC Secretary said: "The Coalition Government put in place the Levy Control Framework (LCF) to support the growth of low-carbon energy – renewables, nuclear, biomass and other budding technologies such as carbon capture and storage.
"By 2020, this framework will have provided around £40billion to support a clean energy boom.
"Renewables, for instance, are likely to be providing over 30% of Britain's electricity by the end of this Parliament – up from just 7% in 2010."
Professor Geels said that the government is very likely to meet these 2020 targets, set when the LCF was introduced, but have very little planned beyond that point.
He said: "Despite the recent changes, the government is likely to meet its 2020 targets, because of the momentum of deployment and investment plans that are in the pipeline.
"It is becoming increasingly clear, however, that the government has limited post-2020 climate change ambitions, despite repeated calls for this by the Committee for Climate Change."
He explained that since CCS and nuclear power were announced as means for lower the UK's carbon footprint, they have progressed much more slowly than anticipated.
The professor believes that this slow progression could lead to the government scrapping the Climate Change Act entirely.
He said: "I would not be surprised if the government in a few years' time uses this under-delivery to force a debate about the Climate Change Act, arguing that the climate change targets are unfeasible and that the Climate Change Act needs to be removed or watered down.
"So, the recent policy announcements could turn out to be the first official moves in the 'long game' that the Chancellor is playing."
Prime Minister David Cameron has promised to lead the world to a climate change deal at a summit in Paris in November.
Main image courtesy of Takver, with thanks.