A single stretch of Stockport motorway rakes in more than £590 per day from motorists through speed camera fines, it has been revealed.
The snap-happy speed trap, located at Junction 25 of the M60, near Bredbury, brought in a staggering £215,660 between April 1 2013 and March 31 2014, according to figures obtained in a Freedom of Information request submitted by MM.
The news sparked a heated response from Bredbury Councillor Christine Corris, who slammed the out-of-pocket drivers.
Speaking to MM, Mrs Corris said: "You can't legislate for idiots and speed cameras will always pick up those who choose to disregard them.
"There are a number of drivers who will speed where they think they can get away with it.
"If drivers choose to speed where they ought not to I have very little sympathy with them."
The sum total of fines would be enough to buy: 862,640 Freddo chocolate bars, 71,887 pints of beer, 10,783 copies of Roy Keane's new autobiography, 400 iPhone 6s or nine BMW 3-Series cars.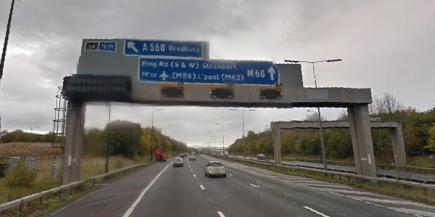 CAUGHT ON CAMERA: There have been 9,000 offences from just one camera (©Google Maps with thanks)
One camera alone took in more than £75,000 – more than the second most profitable in Greater Manchester which is found on Princess Parkway.
The money amassed came from 2,619 separate offences – a fraction of the 9,245 offences that were detected in total by the camera.
That means that, on average more than 25 people were caught on every single day of the year.
It also showed that of the 50 most profitable speed cameras in the Greater Manchester area, just one accounted for almost 12% of the total offences that were clocked.
The stretch of motorway is covered by an average speed camera, with a limit of 50mph – a sharp reduction from the usual motorway limit of 70mph.
The cameras went live in 2010, after a late night crash five years earlier claimed the lives of two Stockport residents and another from Swinton and sparked action from the transport authorities.
Sean Corker, media spokesman for the Alliance of British Drivers, argued that the controversial camera was not beneficial to drivers and questioned the sense in having a boundary 20mph slower than the national limit.
 "You have to ask if the speed limit is correct," he told MM.
"50mph does seem to be exceedingly slow, there doesn't seem to be any reason for it being 50.
"I think the problem is that for over a decade the answer to every road safety problem is a speed camera.
"They have this mentality which I think is clearly wrong."
Despite Mr Corker's comments, statistics provided by Greater Manchester Police show a marked decrease in the number of accidents in the area since the installation of the cameras.
In the five years, since the introduction of the cameras, only two slight incidents have been recorded, in sharp contrast to the previous five years, which saw 28 smashes, four serious accidents and three fatalities.
Image courtesy of Mick Baker(rooster) with thanks