MM took the evening commute on the new Manchester Water Taxi route between MediaCityUK and Spinningfields to see why visitors are swapping the trams for the waterways.
Since the introduction of the service on September 25, a number of loyal city workers and nightlife revellers have been taking advantage of the traffic-free way to travel.
Ex-Royal Navy serviceman and now part-time Waxi skipper, Ryan Partington, explained how the new service is running at night.
"23:30 is the last one, but the online bookings stop at 7pm, so if you want anything later you'd have to ring up," he said.
"If somebody rang and was like 'I want to leave the Alchemist at 11 tonight and go back to town', I'd stay on until 11."
The 28-year-old demonstrated how the boats deal with unwanted obstacles while connecting passengers with two of Greater Manchester's growing night scenes.   
"When it goes dark we've got a little searchlight. It lights up the whole canal in front of you for 50yd, so you can avoid fridges.
"Especially when it's raining, the current is a lot faster so you get a lot of fridges and stuff that come down from the top of town," he added.
Ryan revealed the company's plans to expand the route's reach across the Manchester Ship Canal to attract more customers in the future.
"There's three stops all together, not including Media City and Spinningfields, and the owner is trying to get another couple put in along the way as well, he just needs permission."

GNOME JOKE: For all the jolly sights from the Waxi, skipper Ryan says he sometimes encounters fridges in the water
The Mancunian also explained how simple the boat is to operate.
"It's not complicated at all, it's just stop, forwards, reverse. It has a 70 horse power outlet on the back and obviously you've just got a wheel.
"You need a powerboat level two from a rowing and yachting association, it's only about a week course."
Hannah Boka, a worker at Gamma Telecom, was having a drink at The Alchemist, MediaCityUK, when she first noticed the yellow painted Waxi.
"We just saw it underneath and were like 'Oh, we need to go on it one day' and then we came on it and realised it stopped at my house."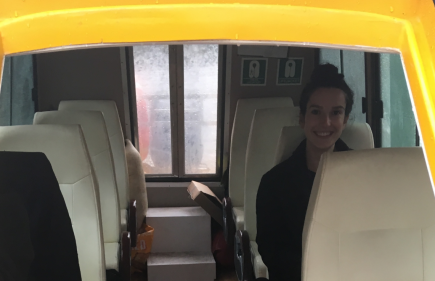 WAXI FOR ONE: Loyal customer Hannah looks delighted with the ample space, the opposite to being a sardine in a train or tram 
She now uses the unorthodox mode of transport daily to avoid the winter weather while saving time and money on the way to work.
"It costs me £20 a week and there's no traffic, it's a dream," the loyal commuter said.
"When I factor in that I'd have to walk to the tram, and I probably wouldn't in the rain, so I'd get a taxi, realistically this is cheaper."
For more information on Manchester Water Taxis, visit https://www.manchesterwatertaxis.com/