Bedroom tax is not just hitting Manchester residents hard, but their pets too, as the benefits squeeze is making people feel they have no choice but to abandon their four-legged friends.
Cats in particular are being left without homes at a record rate across Greater Manchester in what the RSPCA is calling a 'cat crisis'.  
Laura Messinger from the Society for Abandoned Animals blamed government welfare policy for contributing to a rise in unwanted animals.
Ms Messinger said: "We've seen an increase in abandoned animals as a result of the bedroom tax.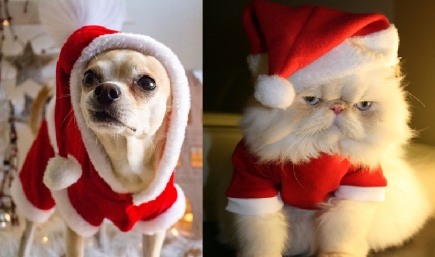 SANTA PAWS: Bring a rescue pet some Christmas cheer this year (Courtesy of Raul Macias and Patti Lowery, with thanks)
"A lot of the people who bring animals to us are from low income backgrounds and with the recession, jobs being lost, and benefits being squeezed, people are really struggling out there."
And as Christmas approaches budgets are being stretched to near breaking point, which too often means the family pet is abandoned because it is too expensive to keep.
With days like Black Friday and Cyber Monday encouraging impulse buys, RSPCA spokesman Andy Richards has also called for caution before buying an animal as a Christmas present.  
Mr Richards told MM: "You have a legal obligation to look after that animal.  So to get one on a whim or give one to someone who doesn't especially want one is an irresponsible act."
Dogs and cats are often bought for young children without thought for long-term commitment.
Jane Smith, a volunteer for the Manchester Dogs' Home recently devastated by an arson attack, encouraged people to adopt a rescue dog instead of buying one.
She said: "We would really urge people to consider taking a rescue dog and giving them a second chance in life.
"So many dogs end up at the dog's home through no fault of their own whatsoever. It's those dogs that need the chance."
But she appeals to people who are thinking of getting a pet to 'think of it in terms beyond Christmas'.
A call echoed by Andy Richards, who said: "It's a living being that needs food, water, shelter, proper exercise every day, and it's a lifelong commitment for that animal. You simply can't walk away one day and decide that you don't need it."
Additional work by Robin Crowley and Charlotte Green.
Main image courtesy of Iskra Photo, with thanks.