Thousands of students across over 45 universities signed their intention to withhold rent to protest institutions continuing to charge rent after the country went into its third national lockdown.
Rent strikes will take place throughout January, and is predicted to be the largest the UK has seen in the past 40 years.
Though university students protesting now are against second semester rent charges, many movements found their start at the beginning of the academic year when universities promised face-to-face teaching.
Universities UK found that 97 per cent of the 92 institutions surveyed in June intended to provide on-campus teaching in the 2020-2021 academic year.
Many universities advised incoming and returning students to return to campus– and many booked university accommodations for the duration of their study.
However, with COVID infection rates in England increasing rapidly between September and October, many universities abandoned in-person lectures with students being still forced to hand over high accommodation fees.
Since then, rent strikes across UK universities are increasingly frequent and are growing in size, but what many will discover is that the match that lit the fuse occurred between October and November in Manchester.
These student protests that shook the nation were watershed events that propelled the national rent strike movement forward, emboldening students to be louder and more radical to have their demands met.
The spark that ignited a nation
Many university rent strike groups began forming in October, when many universities refused to give rent rebates, discounts, or deposits back to students who were led to believe that they needed university accommodation for on-campus teaching.
Early groups were formed in Bristol, Glasgow, Liverpool, Warwick and Manchester, but many failed to achieve their demands for increased accommodation flexibility, better support for self-isolating students, and rent cuts.
Meanwhile in Manchester, videos of large parties in halls were being circulated across social media, sparking outrage from the University's administration.

Shortly after, the University released figures to show that 221 staff and students tested positive for COVID and many students living in university halls were forced to self-isolate after being in close proximity with confirmed cases.
Students under quarantine complained of mental health deterioration due to loneliness and isolation, while receiving inadequate support from their University with accessing food and laundry services.
The final straw for many came when the University erected 6-ft metal fences around halls of residence on the first day of the national lockdown without first informing students. Though the fences did not block off all exit and entry into halls, students said they felt trapped as the barriers blocked pathways between buildings.
With morale low, hundreds of students retaliated and tore down the mental fences in a huge demonstration­­. Some stated they were tired of being treated as untrustworthy or as "criminals" by a university that had critically failed in communication and student support.
Attracting national attention in the BBC, The Guardian, Daily Mail and more, activist groups seized the spotlight to stage rent strikes.
Student unrest led to 15 students occupying Owen's Park Tower, a campus building, to demand rent rebates less than a week after the students tore down the metal fences.
The group demanded for a rent reduction of at least 40 per cent for the rest of the academic year; to offer all students a no-penalty early release clause in their tenancy contract; and to increase the standard of support for students in university accommodation.
They further demanded that the University work with the UCU and cease staff redundancies.
The group rejected the University's initial offers of a two-week rent reduction (around a 5 per cent cut) and then later a 10 per cent rent reduction, occupying the building for two weeks until UoM Rent Strike and 9K 4 WHAT? announced their victory on the 25th of November.
The group managed to secure a 30 per cent rent reduction for the first academic semester, worth around £120 million back in students' pockets. With that pledge, the University of Manchester's rent strikers became some of the most successful in the country's history.
Activism proves to be infectious
Manchester's triumph led to a wave of student movements gaining traction. Word of its success spread across social media, and motivated students from other universities to start their own rent strikes.
During the Manchester group's occupation, Nottingham's and Cambridge's main rent strike movements joined Twitter – galvanising their student body to join the struggle against 'extortionist' accommodation fees. And within a week of Manchester announcing their victory, Oxford and Sussex both joined the social-media driven wave of strikes.
To student activists, Manchester was an important lesson that rent strikes could and would be effective with enough commitment and enough public pressure spotlighting universities. Later in December, Bristol Rent Strike would win similar concessions for their student bodies.
A timeline of the Manchester University rent strike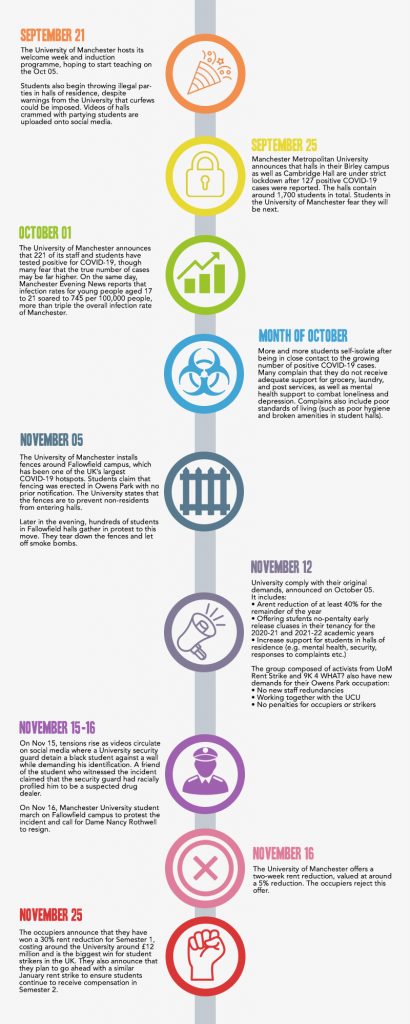 A fight ongoing
Many universities across the country have waived rents and offering rent reductions for the first semester in response to student complaints.
But now students have turned their attention towards the UK's third national lockdown. Before the Prime Minister's announcement COVID restrictions would not be relaxed over Christmas, contrary to his previous statements, many students travelled back home for the holidays.

With new lockdowns in place, some students were forced to stay home and not travel back to campus.
But yet, many universities insisted that their students pay for semester two rents, sparking new waves of outrage across campuses and continuing the largest wave of rent strikes the UK has seen in the past 40 years.
Over 4000 students signed up to rent strike in January, with the wind of Manchester's and Bristol's wins in their sails.
Main photo credit: Alisdare Hickson from Flickr