The Conspiracy Crushers
Welcome to The Conspiracy Crushers podcast, a podcast about all the conspiracy theories that make scientists mad. I'm your host Sally Best, Environmental Biologist and Scientific Journalist. Throughout this series I will explore the world of science conspiracies, myths and common misconceptions with a range of different guests from the scientific community. This podcast aims to debunk some common false theories through the use of science and evidence. In doing so I hope to bridge the divide between science and the public and to increase understanding of scientific discovery and research. Please be sure to get in touch if you have any science conspiracy theories you think we should discuss and debunk.
Episode 1: What is conspiracy theory and why does it exist?
This episode navigates the origin of conspiracy theories, what makes some of them so easy to believe, how they are propagated and why we should do our research. I am joined in this episode by Len Best, retired Lecturer in Physiology and Researcher in insulin producing cells. We discuss some common false theories, their prevalence in the media, the effects of confirmation bias and the echo chamber effect. We touch on the dangers of some conspiracy theories out there and Len gives his top tips on how to use trusted sources.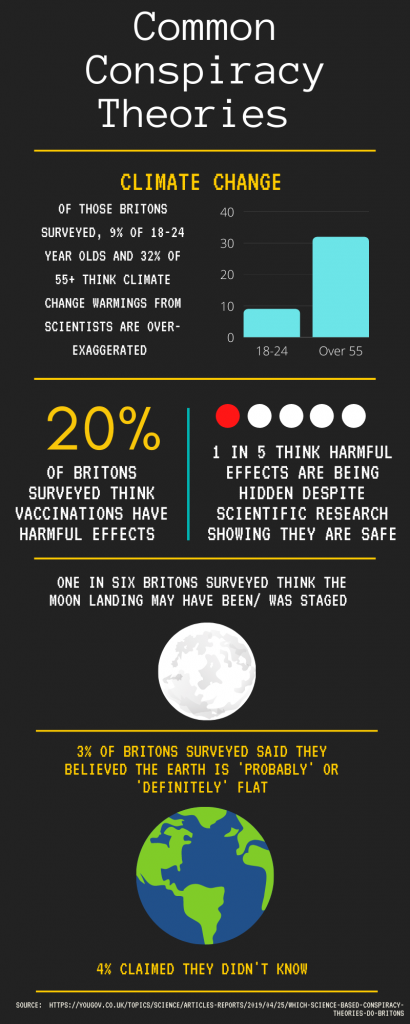 Infographic data source: https://yougov.co.uk/topics/science/articles-reports/2019/04/25/which-science-based-conspiracy-theories-do-britons
Music Source: "Outsider's paradox" by Springtide: https://creativecommons.org/licenses/by-nc-sa/4.0/legalcode