Die-hard Beyoncé fans camped outside Manchester's Phone's 4 U arena from 6am, braving the wind and rain to get as close as possible to the star when doors open at 6pm tonight.
Ahead of the gig excited fans armed with energy drinks, blankets, fold-up chairs and packed lunches were desperate  to get as close as possible to the Texan-born singer.
Mischa Harris, 20 and friend Olivia Collins, 19, brought blankets, packed lunches and a set of dominoes to while away the hours ahead of the gig tonight.
Olivia said: "We got a guy to draw us a map of inside so we have a plan of action when we go in."

The earliest fans arrived at the arena around five in the morning and were joined by a steady stream of many other eager fans.
At four in the afternoon there was an estimated 200 people sat outside the doors braving the steady downpour.
Hannah, 16, from Manchester, said: "I'd rather queue outside because no-one will want to so we'll get closer, I'll definitely be waiting here all day."
Twins Amy and Bethany, 17, travelled from Southport earlier this morning to ensure a good spot.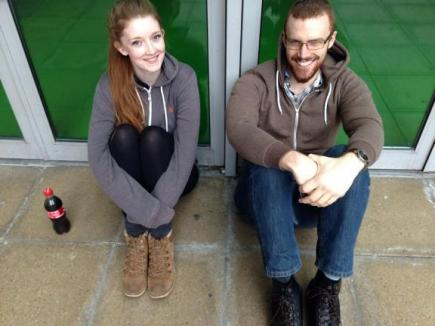 Amy said: "We thought there'd be loads more outside – we were one of the first here when we arrived here at twelve."
Whether the buzz around the arena was from the cold or the many energy drinks being consumed, all the fans had one thing in common – their excitement for tonight's performance.
Superfan Sean, 23, revealed that he had travelled across the country to follow his music idol.
He said: "This is my fourth show in a row, I went to two in Birmingham and now I'm doing two in Manchester. I was in the front row yesterday and I'm hoping to do the same again today.
"I arrived here at 5.45am and my friends are joining me later. We have VIP passes so we can get in twenty minutes before general admission."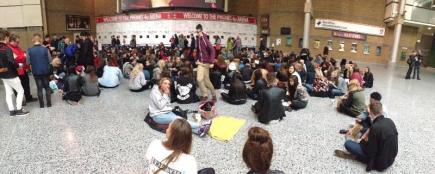 Friends Amy Bates, 24 and Jenny Gibson, 29 were among many who planned to arrive early to get as close as possible to her.
Jenny said: "We came here last time she was on and it was chocka so we were planning on leaving at 9.30am but we got lost so we got here at about 2pm."
Beyoncé is currently touring the UK and is doing two dates in Manchester at the Phones 4U arena in Manchester, on February 25 and 26.