A Wigan bodybuilder exposed as a key player in the sick world of illegal dog fighting who used steroid-fed pitbulls to fight to the death was jailed yesterday.
A disturbing training school used to prepare dogs for their gruesome fights was uncovered at John Psaila's Abram home by RSPCA officers.
Their grim discovery revealed an array of instruments used to train the killer dogs – including treadmills, steroids, muscle-gaining powder and home veterinary kits with medication so injured dogs didn't need to see a vet.
Blood soaked buckets and sponges were also found at the address along with other evidence such as dog fighting yearbooks and magazines.
The 49-year-old has been jailed for 121 days and banned from keeping animals for life.
Psaila, 49, of Thornvale, Abram, appeared at Wigan and Leigh Magistrates' Court yesterday, where he was sentenced for the 14 offences which he had previously admitted, including training animals to fight and possessing equipment connected to the organised bouts.
Chief Inspector Ian Briggs, of the special operations unit, said: "When he was interviewed, he admitted he'd had an interest in pit bull terriers since the 1980s.
"To have successfully obtained convictions against him is a huge breakthrough in our ongoing battle to bring dog fighters to justice, and prevent more animals from suffering at the hands of people like him.
"Dog fighting is one of the most brutal, extreme and premeditated forms of animal cruelty.
"Hopefully this case will provide fresh information that will lead us to other dog fighters who think they are above the law."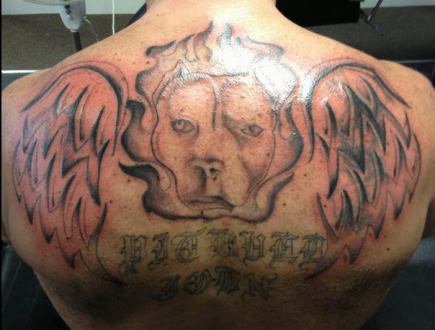 'PITBULL' JOHN: A tattoo posted on Psaila's Facebook page
Two houses in the Greater Manchester area served as the doggy fight club, where several pit bull terrier type dogs were kept and trained to fight in organised bouts.
Inspectors from the special operations unit, who investigate organised animal crime, had received information that the man was involved in organised dog fighting, and an allegation that said he was preparing to take a dog to a fight.
The special operations unit joined with Greater Manchester Police on warrants at the man's address, and at another house on Lowton Street in Radcliffe, which was targeted last year.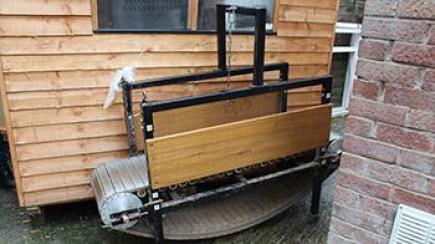 DISTURBING: A treadmill that the dogs would be tied to, to 'train' them for fighting
The defendant had two pit bull type dogs in his care called Ziggy and Tip, which he admitted training to fight, as well as training another dog called Cruise to fight, although the dog was not found at either address.
There were texts found on the man's phone which revealed plans to arrange a fight between Cruise and another dog.
The court was told that the man claimed that he had only been involved in dog fighting for three years as part of a money making scheme.
The defendant, has been ordered to pay £520 in costs and was told by magistrates that he can't appeal the ban for 15 years.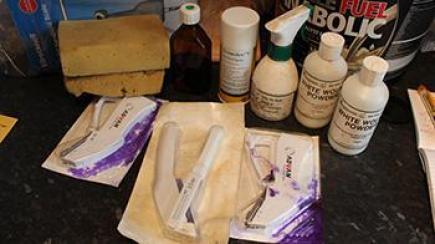 SEIZED: Equipment included steroids, bloody sponges, antibiotics and other home vetinary kits
All images courtesy of RSPCA or Facebook, with thanks.