Two Lancashire girls have been awarded the Public Bravery Award after calling 999 when their mum had a seizure on the motorway last November.
Lily Barber and sister Eva, nine and seven respectively, were travelling on the East Lancashire Road with their mum, Claire Barber (main picture, top left), as she suffered a seizure and passed out.
The sisters immediately called emergency services when they realised their mum was unwell and were able to tell a call handler from Greater Manchester Police their location, direction of travel, car type and their mum's medical history.
The 999 recording, which police have released (listen below), starts with Lily screaming: "Please – my mummy's – my mummy's passed out! And we're on the motorway near Boothstown [inaudible] I think she's passed out!"
Call operator Stephanie Baxter (main picture, top right) is heard successfully calming the panicked girls down as she prompts Lily to give her more details, which enabled her to act fast.
After a tense 10 minutes involving the girls trying to stop their mum getting out of the car onto the motorway, the recording ends with an officer telling Ms Baxter he's with the kids.
Both girls were given the Public Bravery Award by Chief Constable Ian Hopkins (main picture, centre) at the Greater Manchester Police's Awards on February 23 for their help and bravery in responding to the situation.
Ms Baxter, who only started working for the GMP 18 months ago, was also recognised for her handling of the situation.
She also received a personal thank you from Ms Barber who said: "I would also like to say thank you to the call handler from the Police for keeping the girls so calm – they must have been so scared and you really helped make it a bit easier for them." 
Chief Constable Ian Hopkins said: "Lily and Eva showed real bravery and maturity when they must have been really scared about what was happening to their Mum.
"Thankfully, their mum had taught them what to do in the event of an emergency and, thanks to their quick thinking and calmness we were able to get help to them as quickly as possible. 
"It was a real privilege to meet Lily and Eva and present them with a Chief Constables Commendation. They are impressive young ladies and should be very proud of what they did."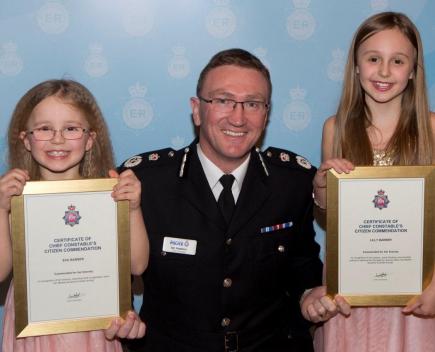 BRAVE AND MATURE: Eva Barber (left) and her sister Lily were praised by GMP's Chief Constable Ian Hopkins for their decisive actions