A human rights' lobby group protested against Gap's sweat shop links outside the clothing giant's St Ann's Square store yesterday – yet for most of the day there was only one protester.
The demonstration from War on Want, which took place on the first anniversary of the Rana Plaza disaster, called for clothing firm Gap to join the Accord on Fire and Building Safety in Bangladesh agreement – which they have yet to sign.
But only a few people showed up for the peaceful protest which condemned retailer's refusal to follow over 150 signatories and sign the legally-binding accord.
The garment-manufacturing industry is huge in factories across Bangladesh, where more than 1,100 people died after a factory building collapsed in the country's Rana Plaza disaster.
Gap issued a statement this month, saying 'the families of those who were lost will never be the same and neither should the retail industry'.
Although they were quick to assure customers that 'Gap clothing was never manufactured at Rana Plaza', there is still anger aimed at the company and others to commit to better standards of safety in Bangladesh.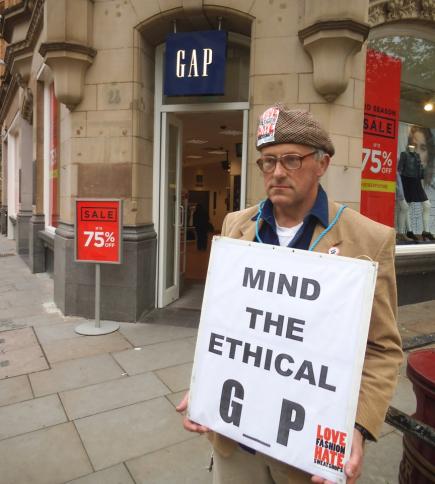 SWEAT SHOP FIGHT: Stephen Pennells leads the fight against Gap
Stephen Pennells, 60, a former teacher from Longsight, was leading the demonstration in Manchester yesterday from 9.30am to 6.20pm.
"There were five of us there for two or three hours over lunch", he said. "It was a bit of a disappointment."
The protests were better attended in London, with Gap's Oxford Street store attracting a bigger crowd of protesters.
A human chain of placard-bearers formed down the famous shopping street and people stuck signs to the shop windows.
Mr Pennells believes that the London store attracted more attention because the possibility of national papers drew the crowds in – and Gap's head office is also based in London.

STRENGTH IN NUMBERS: The London protest gained a bigger following (©IDJ Photography with thanks)
He added: "In Manchester, we don't have a history of local groups. Oxford Street in London is more exciting than St Ann's Square in Manchester! That's part of the reason why there was a disappointing turnout."
Of the people that did turn up, there was one each from Oldham, Shrewsbury and Coventry and two from nearby Chorlton.
Manchester city-dwellers were nowhere to be seen.
One of the Chorlton duo, social worker Ruth Conlock, 48, said: "I think it's my responsibility as a consumer of clothes to protest to Gap, who have disgustingly not signed up to the agreement to make sure that no future tragedies like Rana Plaza happen again.
"It's my power as a consumer to protest, so that's what I'm doing.
"Have a conscience – people are dying to produce your clothes. If you can live with that then that's up to you – I can't."
The poor attendance may have justifiable reasons, as Mr Pennells explains, but it may also point to a lack of concern around Manchester.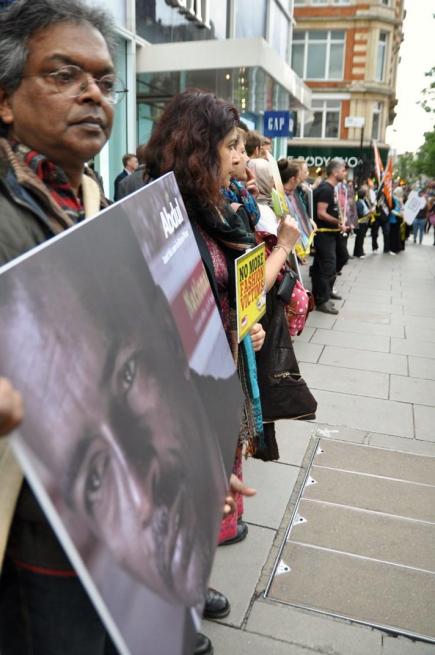 A CHAIN FOR CHANGE: London protestors block the entrance to the Oxford Street Gap store (©IDJ Photography with thanks) 
In an increasingly price-driven world, do people really care about shopping at places like Primark, where prices are low, just like the working standards of their manufacturers?
One Primark shopper Matthew Fryy said: "You pay £30 or £40 at Debenhams for a pair of boxers – you can get the same product at Primark at 3 or 4 for £10.
"Primark have become more popular, and it's down to people not having lots of money.
"It was a bit embarrassing to be seen with a Primark bag a few years ago. Now, it's not."
Intense competition in the market means that companies continue to watch their production costs closely.
The working conditions for people out in places like Bangladesh have suffered, and this became apparent in the Rana Plaza disaster, which is widely-believed to have been preventable.
Gap maintains that it is 'making significant, long-term investments to improve fire and building safety in Bangladesh' but War on Want claim that Gap, along with American retail chain and Asda owners Walmart, are guilty of creating a less stringent plan.
The Alliance for Bangladesh Worker Safety – which they have set up – does not contain anything about workers having the right to refuse dangerous work.
It also omits certain commitments to collaborate with workplaces to make conditions safe, and thirdly, trade union access to factories.
There were several factories in the building at Rana Plaza supplying garments to 28 brands – Primark was one of them.
In a statement on April 23, they said 'our thoughts remain with the victims of this disaster, and their families'.
Unlike Gap, Primark have signed the agreement to increase safety in Bangladesh.
They also provided compensation to the families of those who worked in the factory and this has cost them over £5million.
The consensus outside the Market Street Primark seems to be that the prices are too good to turn down.
Shona Grey and Lauren Mair, both 20 and from Manchester, said: "It's good because we have no money!
"You don't think about it – you don't think 'oh, this has come from a sweatshop'," Miss Mair said.
One man, simply identified as Andy M, said: "It's cheap and cheerful. They're the market leader now."
People showing concern for the industry and the ethos that we have in Britain were in the minority.
Sam Haughton, 34, from Oldham, said: "I do think people in the West take a lot for granted. We don't even bother to look back at other countries who have nothing."

I SHALL NOT BE MOVED: Pennells was undeterred by the low turnout
Mr Pennells, who stood outside Gap protesting all day, is one of the few cases of someone showing disgust and anger at the sweatshops and the fight for improved standards in Bangladesh.
He said: "We want to make sure that companies don't put pressure on their workers because what happened at Rana Plaza is that although they saw holes in the walls – the place was falling to bits – they were told 'you either go back to work or you lose your job, or a month's pay'.
"The accord that we want Gap to sign up to means that there will be independent and reliable checking of safety in factories."