A Manchester food group are cooking up a storm to roast food poverty and provide a tasty alternative to food banks.
Non-profit organisation FoodCycle, who also operate hubs from 16 other UK locations, take food waste from supermarkets and transform it into healthy vegetarian meals.
These are then distributed to the vulnerable using spare urban kitchen spaces as volunteers whip up hot three-course meals for 50 people every Wednesday at Longsight's Roby Community Centre.
FoodCycle Manchester Hub Co-ordinator Merlyn Taylor, who has been involved with the group for three-and-a-half years, said:  "We provide nutritious dishes to people who are often forced to skip meals due to their circumstances and our guests always leave with a smile.
"The volunteers are all amazing individuals and I feel honoured to have such a passionate team in our kitchen."               
Tonight, the group will use food donated by local businesses and food charity Fareshare to produce their meal.
As ingredients can vary, volunteers are never sure what is on the final menu until they're in the kitchen.
However, the aim for tonight's slap-up meal is vegetable soup to start followed by a creamy pasta bake with salad and a fruit crumble with custard to finish.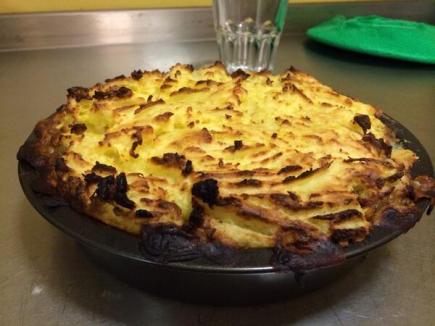 YUMMY! All meals are made from waste food discarded by supermarkets and are vegetarian
There will also be musical accompaniment from a folk trio to serenade the crowd with some classic songs.
The musical move is part of a recent focus towards putting on performances to accompany the evenings and provide a 'more vibrant atmosphere' and add 'something extra special' to the events.
Since launching in May 2009, FoodCycle have capitalised on the estimated 400,000 tonnes of waste thrown away by the likes of Asda, Tesco and Sainsbury's every year to stop deprived residents from starving.
With 4.7million people affected by food poverty according to food bank operator Trussell Trust, the need for a grassroots green group to dig in to the issue has, arguably, never been so urgent.
And after serving over 90,000 meals, using 100,000kg of reclaimed surplus food (the equivalent saving of 450,000kg carbon dioxide emissions) by a network of 1,200 volunteers nationwide, FoodCycle believe they can get a handle on the hungry.
The group feed people from all kinds of backgrounds with older people, mental health service users, homeless people, low-income families, asylum seekers and refugees and the long-term unemployed among the groups tucking in.
The Department of Heath defines food poverty as "the inability to afford, or to have access to, food to make up a healthy diet."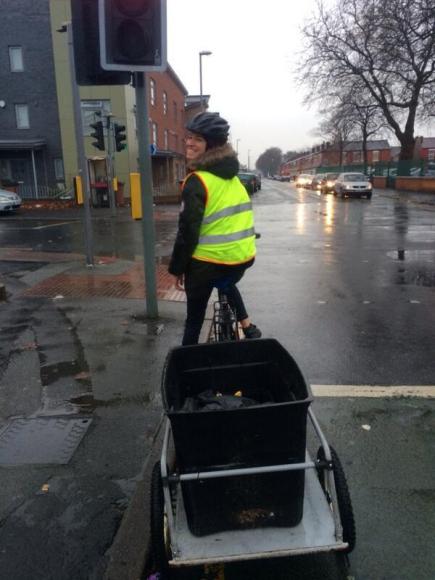 ON YER' BIKE: FoodCycle volunteers pick up the food which often varies
And with cash still at a shortage, the community-powered project is directly engaging with those seriously affected and tackling social isolation as well as rumbling stomachs.
While food banks stop at providing takeaway meals, FoodCycle's dinners have let people chat as well as chomp, earning a 'loyal following' in the Longsight community since moving back in October 2013.
And volunteers are just as at home talking with locals as they are chopping onions after receiving food safety training before they begin.
Roles vary from picking up food and planning the menu to more hands-on roles in the kitchen for confident cooks.
Anyone interested in joining the Manchester hub can find out more information on the FoodCycle Manchester website.
Images via FoodCycle, with thanks