Incidents of violence and assault on Greater Manchester Police's officers have hit a five-year high – figures the Deputy Police and Crime Commissioner says should be 'at the forefront' of the Home Secretary's mind.
The result of a Freedom of Information request reveals there has been more than a 20% rise in assaults on officers over the last two years, with 754 assaults occurring over 2012/13, compared to 951 assaults occurring over 2014/15.
DPCC Jim Battle described these 'very concerning' figures as just another clear example of the risks officers take to just do their jobs and protect the community.
He told MM: "The increase in assaults and the underlying upward trend is very concerning and shows how police are faced with increasingly challenging and dangerous situations.
"Police officers remain dedicated to keeping us safe, putting themselves at risk at a time when the government is determined to keep axing officer numbers."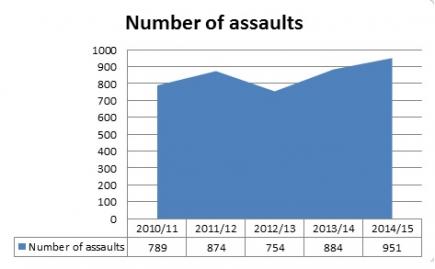 Image courtesy of GMP, with thanks.
The extreme cuts GMP have incurred have garnered a lot of criticism recently as crime rates continue to rise across the region.
The latest figures, released today, by the Home Office show a 10% rise in recorded crime across Greater Manchester, compared to a 3% rise nationally.
This includes a 33% rise in reported domestic abuse cases, a 40% rise in violent crime and a 54% rise in reports of sexual abuse cases.
Every day in Greater Manchester one sexually exploited child is reported, along with 29 missing people and 57 incidents involving vulnerable people or those who are mentally ill.
Mr Battle said: "These cuts increase the danger of police officers putting themselves in a position where they are exposed to violence.
"These figures should be at the forefront of the Home Secretary's mind when considering what to cut from police budgets this year."
Police and Crime Commissioner Tony Lloyd has also added his voice to the fight against further cuts, urging Prime Minister David Cameron to 'stop chipping away' at our police force.
He said: "Local people are rightly worried about the cuts to Greater Manchester Police and those concerns are cemented today as official figures show crime continues to rise.
"I call on David Cameron to stop chipping away at the police service, invest in public safety and make sure that policing has the money and the means needed to keep us safe."
However, it is not just government cuts that are leaving GMP officers more vulnerable to assaults and violence when they are out on Manchester streets.
Mr Battle explained that the abuse of alcohol, drugs, and 'legal highs' also contribute to the rise in aggression against the police force.
He said: "Alcohol and drug abuse also plays a part in fuelling violence, including drugs packaged as 'legal highs', which can have a disturbing impact on people, contributing to violent incidents and ultimately endangering the police and the public."
Police across all of Greater Manchester announced a region-wide crackdown on the sale of 'legal highs' just yesterday.
Assistant Chief Constable Robert Potts explained that while officers may accept putting themselves at risk as part of the profession, they should be able to carry out their jobs without fear of violence.
He told MM: "These figures have once again demonstrated the danger that our officers frequently place themselves in.
"Each and every day police officers, PCSOs and special constables step out on to the streets of our city knowing that they are putting themselves at risk from dangerous offenders.
"But they do so because when joining the force, those officers commit to upholding the law and protecting the public.
"While they may accept that those risks are a sad but inevitable consequence of their roles, every assault is a criminal act that undermines the police's ability to protect society and help to keep people safe, which is our core purpose.
"Ultimately Greater Manchester Police's officers are like any other member of the community, they should be able to carry out their jobs without fear of being attacked."
Mr Potts also said that on top of the cuts putting the force under pressure, every officer injured impairs their ability to protect Manchester too.
He said that while assaults are still relatively rare, any aggression is a criminal offence and will not be tolerated.
"The absence of officers due to injury has a direct impact on our ability to respond to the needs of the community," Mr Potts said.
"Actual assaults are still, thankfully, quite rare, but I would like to make it explicitly clear that aggression against our officers in any form will not be tolerated."