Rat nests by children's hospital wards and cockroach infestations in surgery departments are just some of the 2,477 cases of vermin call-outs faced by North Manchester hospitals in 2014, MM can reveal.
In one case a 'rat [was] seen going out of theatre two on to [a] corridor' of North Manchester General Hospital (NMGH) on October 7 this year.   
Staff even reported being BITTEN by some kind of infestation near the theatre at Royal Oldham Hospital in June this year.
More than 150 rats were reported inside hospital buildings with a further 123 found on hospital grounds, statistics obtained by an FOI submitted by MM reveal.
In total NINE RATS' NESTS were found, one of which was a nest outside the ante-natal unit on April 3 2009 at NMGH.
Katherine Murphy, Chief Executive of the Patients Association, said: "This is a major patient safety concern, not to mention a serious compromise in dignity.
"Some of the areas where pests have been found house vulnerable patients who could be at high risk of infection."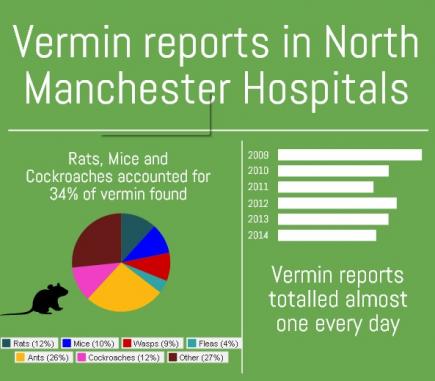 NMGH's incinerator was reported to be 'over run with rats' on April 2013 and a 'cockroach infestation' was discovered in the department of surgery on August 2014.
In all, there were 248 cases of mice, 285 cockroaches, 655 ants, 106 fleas and 231 wasps while the rest were made-up of reports of maggots and silverfish among others.
Mrs Murphy added: "Trusts and hospitals must have robust measures in place to deal not only with pest outbreaks, but to prevent them from getting a foothold in our hospitals.
"Patients and staff deserve clean and hygienic environment and the NHS needs to ensure this at all times."
Vermin were reported 985 times at North Manchester General Hospital and on 931 occasions at The Royal Oldham Hospital.
Birch Hill Hospital, Fairfield General, Rochdale Infirmary and other services made-up the remaining 561 cases.
A rats' nest was reported outside the operating theatres of NMGH on February 12 2009 and there were another 46 sightings of vermin in or near operating theatres at other hospitals.
Birch Hill Hospital's operating theatres had a 'fly infestation' in July 2012 resulting in the cancellation of the theatre list for that day.
Peter O'Neill, estates officer, at The Pennine Acute Hospitals NHS Trust said: "Recent mild winters have seen an increase in vermin across the country.
"We take preventative measures by employing a pest control contractor to visit each of our four sites every week.
"In addition we act very promptly to deal with any pests that are reported to us.
"The number of call outs is a reflection of how seriously and quickly we deal with any issues so that staff and patients are not affected."
Vermin cases include:
Staff reported being bitten in the area of theatre A at The Royal Oldham Hospital in June this year.
Staff reported an 'urgent' request for Pestokill after 'bugs in theatre' were spotted at Birch Hill Hospital's eye ward in June 2012.
Royal Oldham Hospital reported a flea infestation 'throughout' Theatres A&B in November 2013.
One report in 2009 at NMGH simply read that there were 'rats (loads)' on the grounds near the Trust HQ.
A rat was seen in the day nursery near the nappy bins in NMGH on June 7 2011.
'Furry things' were seen in the office in the mid-wife led unit at The Royal Oldham Hospital on September 28 2011. 
Mice were found inside the kitchen and ward of the C1 building on January 13 and then again two weeks later at The Royal Oldham Hospital.
An ant infestation was reported in the operations room at The Royal Oldham Hospital on April 05 2013
Note: Main image is generic stock photo and not intended to represent any that were found.
Image courtesy of Staffan Vilkans, with thanks.