The Apprentice star Sanjay Sood-Smith has praised Greater Manchester Police's 'massive commitment' to fighting hate crime at today's launch of their awareness week.
The former Manchester University Student, who was a quarter-finalist on last year's search for Alan Sugar's business partner, gave a talk at Affleck's Palace.
Sylvia Lancaster, the mother of Sophie Lancaster, who was murdered back in 2007 for being a Goth, was also at the event to speak out on the issue.
GMP and Manchester City Council have come together, creating a calendar of events, to raise the profile of Hate Crime Awareness Week in the hope the numbers of abuse and violence will continue to fall.
@sanjaysoodsmith has spoken of his experiences as he helped launch this year's Hate Crime Awareness Week #HCAW2015 pic.twitter.com/nXsyGdtuDl

— ManCityCouncil (@ManCityCouncil) January 26, 2015
Sanjay told MM: "I was asked by Greater Manchester Police to come and support the launch of Hate Crime Awareness Week. 
"Following my appearance on The Apprentice, I did a few interviews where I spoke out about the fact that I am a gay man in business and the challenges that I have gone through. I talked quite openly about my experiences growing up and being gay in general.
"As someone who has been on the receiving end of experiencing a hate crime in Manchester, I've come along to help support the launch."
In a bid to crackdown on these incidents of violence borne out of discrimination, 29 places across the city have been turned into third party reporting centres.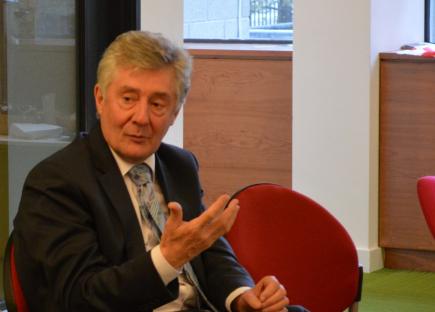 DESPICABLE AND DESTRUCTIVE: GMPCC Tony Lloyd said hatred of people's differnces is 'ignorant and perverse' (© Tony Lloyd, with thanks)
Victims of hate crime can go to these centres and talk to specially trained staff about their experiences, and feel confident that they will be supported and taken seriously.
Affleck's Palace and the Gay and Lesbian Foundation are two organisations where victims can go to seek support.
Sanjay continued: "Greater Manchester Police really are showing a massive commitment towards supporting people who are victims of hate crime.
"They are doing this awareness week to make people understand that if they are victims of hate crime, they should come forward and something will be done about it and they will be supported."
Victims of hate crime and those working to tackle the problem have launched Hate Crime Awareness Week #HCAW2015 pic.twitter.com/XbtvI46zmg

— ManCityCouncil (@ManCityCouncil) January 26, 2015
The campaign is running until February 1 and there are a number of events taking place across Manchester, including talks, exhibitions and short films.
GM Police and Crime Commissioner Tony Lloyd said: "Hate crime devastates lives. Tackling anti-Semitism and Islamophobia is rightly high on the agenda right now, but all types of hate crime are equally despicable and destructive.
"Across Greater Manchester, police and other organisations have been working extremely hard to raise awareness of the issue and I urge victims to come forward and report incidents with the confidence that they will be listened to and taken seriously.
"Celebrating diversity is a sign of a decent, tolerant society, and hatred of people's differences is ignorant and perverse.
"Such attitudes are highly damaging to individuals and our communities as a whole. Let's keep talking about it, keep reporting it, and together we can send a message that such attitudes have no place in our cities and towns."
Hate crime awareness week 2015! Let's end Hate Crime 🙂 #hcaw2015 #PoliceWithPride 🙂 pic.twitter.com/BUaOjNARee

— GMPBlackleyCharlestn (@GMPBlackley) January 26, 2015
Assistant Chief Constable Garry Shewan, GMP's lead on hate crime, said: "This week presents a great opportunity for us to raise awareness of what hate crime is, and the different ways of reporting it.
"I want the message to get through really clearly that we will not tolerate any offence of this kind, whether it is motivated by a victim's alternative sub-culture, disability, race, religion, sexual orientation or transgender identity.
"We need to continue to do more to encourage reporting from all communities, and we are currently doing a lot of work to raise awareness of our third party reporting centres, which people can attend if they would rather not go to a police station.
The lovely @sanjaysoodsmith helped launch hate crime awareness week today. He's a sweetheart! #HCAW2015 pic.twitter.com/Eg2MsUuhEe

— Smyth Harper (@sharper76) January 26, 2015
"Hate crime undermines the energy and richness that is an essential part of life in Greater Manchester, and I would ask anyone who suffers a crime motivated by hate to come forward, as all reports will be thoroughly investigated."
The events, which have funded by grants provided by the City Council and supported by GMP and the Police and Crime Commissioner, include:
• The Nigerian Women's Group will hold an event and quiz to explore what a hate crime is and how to get support, at the Whalley Range Methodist Hall.
• The Miners Community Arts and Music Centre in Moston will hold an exhibition about how artists interpret hate crime.
• The Manchester Muslim Writers group will hold an anti-Islamophobia event to raise awareness of hate crime through creative writing and poetry at Chorlton Library.
• Wythenshawe Community Media will hold radio events and discussions throughout the week.
• The LGBT Centre in Sidney Street, Ardwick, will hold an open day exploring what hate crime is and how it can be dealt with.
• The Mancunian Way charity will hold sessions across the city in which young people will create a film looking at the issues
About to speak at Hate Crime Awareness Week alongside the inspirational Sylvia Lancaster @sophie_charity pic.twitter.com/62Ja4Jmlkk

— Sanjay Sood-Smith (@sanjaysoodsmith) January 26, 2015
Transport for Greater Manchester will also be placing adverts on public transport around the region as part of the campaign, reminding travellers that hate crime is not acceptable.
Councillor Bernard Priest, Manchester City Council's executive member for neighbourhood services, said: "Hate crime can take many forms, and anyone can be a victim, but it is never acceptable and has no place in our diverse and thriving city.
"It's vital that we continue working closely with residents by increasing the number of third party reporting centres, where people can report incidents in a safe and neutral setting, as well as ensuring the service provided at these centres is the best it can be.
"We also need to know the full picture of what's going on, so we're continuing to work with a larger number of communities across the city to make sure people report any hate crimes."
REPORT IT: Assistant Chief Constable Garry Shewan offers advice on how to report hate crimes
Our full interview, in which Sanjay Sood-Smith discusses growing up and facing homophobia in Manchester, will appear later this week.
What is Hate Crime?
Hate crime is any criminal offence, which is perceived by the victim or any other person to be motivated by hostility or prejudice based on a person's characteristic or perceived characteristic including:
•Disability
•Race
•Religion or belief
•Sexual orientation
•Trans and gender reassignment
•Alternative sub-culture
Report Hate Crime:
•Call Greater Manchester Police on 101
•Call Manchester City Council on 08000 830007
•Report it to True Vision online anonymously 
•Visit a Third Party Reporting Centre
•In an emergency, call the police on 999
Hate Crime Awareness Week begins on Monday 26 January http://t.co/aCCeVVNCqE #getinvolved pic.twitter.com/U9QTA7nupX

— SalfordCC HR (@SalfordCCHR) January 16, 2015
Main image courtesy of Taylor Herring and BBC, with thanks.