A volunteer policeman from Manchester has become a Lego master builder – just like hero Emmet from the new children's blockbuster movie.  
Alex Bidolak is already being hailed as the real-life Lego Movie hero over the similarities between his life and that of the film's main character voiced by Chris Pratt.
Millions of people have been to cinemas to see the new film which follows the exploits of Emmet a master builder who goes on to fulfill his destiny as the Special.
Alex is a master builder at Legoland Discovery Centre in Manchester, holding the same job title as Emmet, who works in construction in the film.
Emmet discovers that he is The Special in the Lego Movie, capable of stopping bad guy Lord Business by using the Piece of Resistance.
In real life Alex is also The Special – a Special Constable – and works in his spare time fighting crime in Greater Manchester as a volunteer police officer.
The 29-year-old regularly patrols in east Manchester, and his career so far has seen him take part in policing for the Conservative Party Conference, issuing warrants, participating in raids, making arrests and responding to emergency call outs with the fire and ambulance services.
He said: "When the film came out I just couldn't believe the similarities between myself and Emmet. The character could almost have been based on me.
"I just couldn't stop laughing. I said: 'This is my film! It's a story about me!' I've taken my nephews and neices to see the movie and they think it's amazing.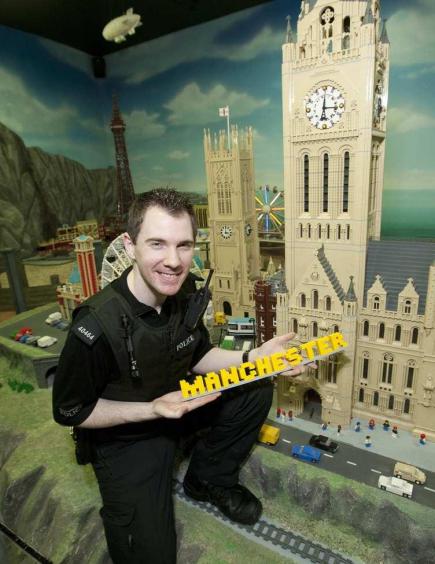 REAL LIFE LEGO MAN: Alex Bidolak is a master builder in Manchester
"The kids who come to visit Legoland Discovery Centre already think I'm something of a hero, but now I can tell them I'm basically a real life version of Emmet – and they're going to really love that!
"I've even created a replica of the Piece of Resistance – Emmet's ultimate weapon against the bad guys – to show them!"
Since its release on February 7, The Lego Movie has proved hugely successful. It has topped the box office for three weeks and has earned more than $183.2million worldwide.
The film features the voices of Chris Pratt, Will Ferrell, Elizabeth Banks, Will Arnett, Liam Neeson and Morgan Freeman.
A sequel is already being planned to be released in 2017.
The Special Constabulary consists of volunteer officers, who assist with the policing of Greater Manchester. They work alongside regular officers, and are expected to commit a minimum of 4 hours service per week.