Breast-feeding mums across Wigan are saying 'thank you' to the borough's businesses who made them feel at home when coming back from maternity leave.
Businesses that have made new mums feel at home breastfeeding were recognised in Breastfeeding Friendly Business Awards at Wigan's Grand Arcade on Wednesday.
Representatives from both Wigan Leisure and Culture Trust (WLCT) and Wigan Council received a Breastfeeding Friendly Business Award.
Mothers from across the borough turned up to participate in a dance flash mob and coffee morning to celebrate.
Wigan Council has introduced policies to support mothers to breastfeed their babies on any of their services, also encouraging residents to be healthy and active.
The award also recognises that both organisations have policies to support their own staff in continuing to breastfeed on return from maternity leave.
Alison Healey, Wigan Council's lead commissioner for health and improvement services, said: "Breastfeeding is perhaps the most natural thing you can do as a mother, but a lot of mums are put off feeding because they fear it will be difficult or awkward to feed in public or because they feel they can't combine breastfeeding with returning to work.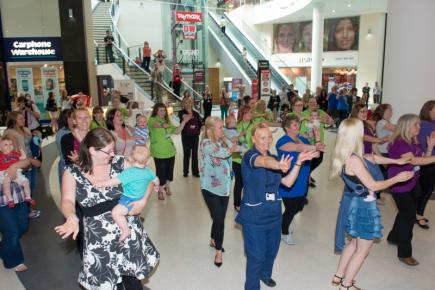 "The Breastfeeding Friendly Business award is an initiative to help support mothers confidence to feed their baby in public and support breastfeeding mothers combine work with continuing to breastfeed their baby."
Despite the Equality Act of 2010 legalising mothers to breastfeed in public, many mothers still feel too embarrassed and either choose not to breastfeed or stop breastfeeding out of the house.
So far, 120 businesses in Wigan Borough have been awarded with the Breastfeeding Friendly Business Award, as they too support mothers at the work force and off it.
Donna Hall, accepting on behalf of Wigan Council, said: "Research shows that breastfeeding has massive health and emotional benefits for both mother and baby, which is why we want to do everything we can to support mothers." 
Carol Southern, WLCT's Service & Development Manager for Wellbeing, said: "Our mission is to help get local people active and healthy, and breastfeeding contributes to babies getting a really healthy start in life."
Businesses that hold the award can be found on Wigan's own Breastfeeding website: www.mymummydoes.co.uk and all display a certificate and a window sticker.