Learner drivers be warned: You're more likely to fail your test in Greater Manchester than elsewhere.
According to the DVSA, three people have taken 16 attempts to pass their driving test in Greater Manchester in the last 12 months with a further two passing their theory this year on their 15th attempts.
A wider trend since 2008, this has seen 44 people taking 10 or more attempts at passing across five different sites at Cheetham Hill, Failsworth, Sale, West Didsbury and Salford (Fire Station).
Failed driving tests cost learners £42million last year and in Greater Manchester the pass rate was 44%, below the national average of 47.2%.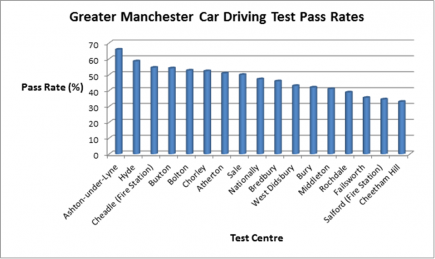 The sixth hardest test centre to pass was Cheetham Hill with only 33% pass rate and only five of the 332 other test centres nationally had a less success.
Figures released by the DVLA show that of the 6,672 would-be drivers who took their test in Cheetham Hill only 2,199 managed to pass.
Salford (Fire Station) also had a low pass rate at 35% which makes it the ninth hardest test centre in the UK.
The average test costs £62 meaning that the nearly 600,000 failed tests set learners back £41.9million.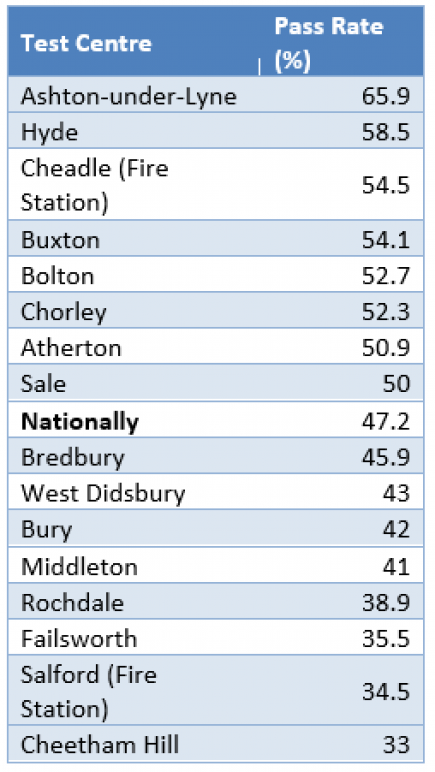 Hopeful Manchester learner drivers should head for Ashton-under-Lyne (65.9), Hyde (58.5) and Cheadle Fire Station (54.5) who scored the highest.
With Buxton (54.1) Bolton (52.7), Chorley (52.3), Atherton (50.9) and Sale (50) all above national average as well.
According to the Office of National Statistics, the amount of people taking their driving test in the UK has decreased by half a million over the past ten years to 1,252,871 people.
With more women than men taking the practical driving test, but they nationally had less success.
In contrast to improved practical performance, the theory test pass rate has dropped over the last decade.
Last year, there were 11,244 attempts at the theory test in Manchester alone.
Of those, 13 people took more than 10 attempts at theory with 2 passing on their 15th attempt and the oldest person passing first time at 72 years old.
Changes to the driving test will come into force in October with a greater emphasis on real-world driving.
The reasons for urban failure may include that drivers in built up areas are affected by extra traffic, complex road signage or added pressure in a busier environment.
IAM RoadSmart – formerly the Institute of Advanced Motorists – say the main reason people fail their test is lack of preparation.
Director of Policy and Research Neil Greig said: "In the UK we seem to want to pass as quickly and as cheaply as possible without treating driving as a skill for life.
"Cost will always be an issue but getting it right first time will save you money in the long run. 
"Some individuals will always struggle to pass for a variety of reasons and it is an indication of its success that the test continues to pick them up."
In response to the findings, DVSA Chief Driving Examiner, Lesley Young, said: "All candidates are assessed to the same level and the result of their test is entirely dependent on their performance on the day.
"It's essential that all drivers demonstrate they have the right skills, knowledge and attitude to drive safely.
"The driver testing and training regime tests candidates' ability to drive safely and responsibly as well as making sure they know the theory behind safe driving."
Image courtesy of David via Flickr, with thanks.