Settling six phone hacking cases will cost Mirror Group Newspapers £125,000, including a payment to former Manchester City and England manager Sven-Goran Eriksson and actor Christopher Eccleston.
The publisher of the Daily Mirror, Sunday Mirror and People could also face 50 more civil claims, the high court has heard.
Eriksson and ex Doctor Who actor Eccleson, from Pendlebury, Greater Manchester, received the highest pay-outs – £30,000 each.
Ex Man City captain and current Chorley manager Garry Flitcroft was given £20,000 in his settlement.
Details of the settlement were revealed by MGN at a high court hearing before Judge Justice Mann.
The former nanny of David and Victoria Beckham, Abbie Gibson also received £15,000 along with celebrity agent Phil Dale and Christie Roche, wife of actor Shane Ritchie.
David Sherborne, representing claimants in the action, told Judge Mann that 28 claims have already been registered with the court.
He said another ten to 20 actions are about to be issued.
The 'many more actions' which had been or were soon to be listed come despite the register being temporarily closed in August, said Mr Sherborne.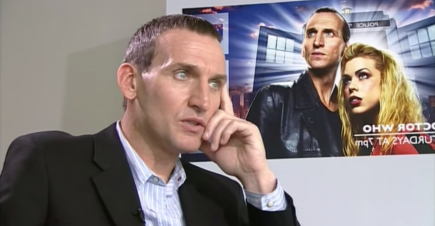 HACK ATTACK: Christopher Eccleson received a £30,000 settlement from MGN
The four outstanding claims in the system against MGN at the moment are those of Coronation Street star Shobna Gulati, Eastenders actors Shane Richie and Lucy Taggart and BBC executive Alan Yentob.
Earlier this week the publishing company said it had also apologised to all four victims for intercepting their phone messages.
It is the first time the company has formally admitted phone hacking after years of speculation.
In a statement released on Wednesday, MGN said: "The Company today confirms that its subsidiary MGN Ltd has admitted liability to four individuals who had sued MGN for alleged interception of their voicemails many years ago.
"MGN has apologised to those individuals and agreed to pay compensation. The amount of that compensation will be assessed by the court if it cannot be agreed.
"The Company can also confirm that six other voicemail interception claims have already been settled for agreed sums."
The Mirror Group first became embroiled in the phone hacking scandal in March 2013, with allegations against them focused mainly on the Sunday Mirror between 2003 and 2004.
In July publishers set aside £4million to deal with civil claims over phone hacking.
Main image courtesy of Cayton Media, via YouTube, with thanks
Inset image courtesy of DrWArchiveExperience, via YouTube, with thanks