The so-called 'worst Christmas tree in Britain' has seen Tameside Council chiefs being branded humbugs by villagers.
Residents in Micklehurst, Mossley, spotted the tree on a patch of grass at a crossroads decorated with just a solitary string of fairy lights.
Now officials at Tameside Council are facing a festive backlash over the 'twig tree'.
In neighbouring Mottram villagers were so embarrassed by their council Christmas tree they set up a Facebook campaign called The 'Embarrassment of Mottram Christmas Tree!'.
 When one posted message saying 'Mottram now has three claims to fame – Ricky  Hatton, Dr Shipman and the Worst Xmas tree in the U.K. / possibly the world', villagers came out in their hoards and decorated it with their own baubles and tinsel.
 Now locals in Micklehurst are hoping the village will gang together and decorate their tree too.
Ian Gauld, 57, said: "At the moment the tree's pathetic and got to the worst anywhere in the UK. It's absolutely rubbish. It's just a waste of time.  Unless someone points it out you don't even notice it. It's hiding behind the lamppost."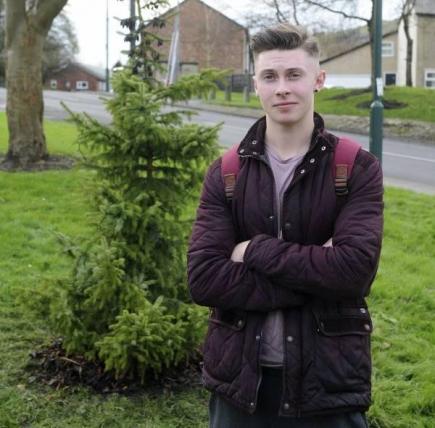 'EMBARRASSING': The so-called 'twig tree' hasn't won many fans in Mossley  (© Cavendish Press)
Student Alex Bradley, 19, one of almost 10,000 residents of the town, added: "It's terrible isn't it? It's a lot smaller than last year. It's that small I thought somebody would nick it, but it's not even worth nicking. It's like a twig."
 Irene Platt, 65, said: "At the moment it looks a bit sad but if it's not vandalised then next year it might grow another foot. The council should have planted that one and put another one up for this year. I haven't seen it lit but I doubt it will make much difference."
 In Mottram hairdresser Louise Downing said: "I thought the tree was a quite appalling.  It's normally about 7ft – this one just looks like the top of last year's tree. I presume it's to do with funding cuts. We normally have a lot of flowers in the summer but there hasn't been this year. I do think it's nice that people have tried to sort it out a little bit, it's gone some way making up for the state the tree was in."
Linda DeCarle, 68, said the community spirit had made matters worse. "Someone needs to go and take it down because it looks a mess," she said. "They should have left it alone. They have made it worse. If you can't do it properly don't do it. I've lived here for 40 years and it's been fantastic until this one. The council should be ashamed."
Cleaner Jessie Rebbitt, 33, added: "We have a lot of pride in the area so to get something like this is appalling. How's that for a 'merry Christmas'?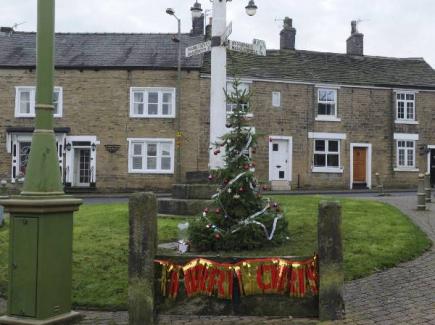 'HIDING BEHIND A LAMPPOST': Residents claim it's easy to miss the tree due to its size and positioning (© Cavendish Press)
The way things are at the moment people need something to look forward to and that's nothing to smile about. That's not going to bring people closer together in a good way it's just going to bring people closer to complain."
A spokesman for Tameside Council said: "The recently planted 'living' Christmas trees at Micklehurst and Mottram are sustainable and therefore designed to provide a tree for the many years to come for the local community.
"As is widely accepted local authorities up and down the country are facing huge cuts to their budgets so are continually under pressure to find more innovative ways of working. By providing living trees as a one-off cost the trees can be re-used year-on-year without the additional costs attached to erecting and taking down a new tree every Christmas.
"Because they are recently planted they are small, but will obviously grow into Christmas trees the whole community can enjoy. As an aside community-minded locals have already started dressing the tree in Mottram, which is bringing the community together at such a special time of year."