Students and staff gathered outside faculty buildings at The University of Manchester this morning as the national strike entered the second of its eight days.
Both teaching and support staff are taking industrial action over concerns with pay and working hours. Many staff also feel that a creeping corporate culture is undermining the original purpose of higher education.
The protests in Manchester are only one part of a national strike from the University and College's Union, who have been joined by Unison. The strikes have also received public endorsement from the National Union of Students.
David Swanson, President of the UCU in Manchester, said: "We have a big fight on our hands. We hope that they see sense and that they can't go on this way."
The appearance of UoM Vice-Chancellor Dame Nancy Rothwell, who was spotted trying to leave by a back entrance, sparked uproar from protestors, who heckled her over her management of the university and £250,000 salary.
When questioned by MM over the controversy surrounding her leadership of the university, Dame Rothwell had little to say, curtly telling MM: "We regret that we are in this situation."
Others however are cynical that her regret will translate into any meaningful action, with one demonstrator saying: "They don't really care. They are just going to do their own thing."
Protestors continued to express their anger and frustration over increasing working hours, with union representatives claiming that the average lecturer works a fifty hour week.
This is in large part due to an increase in administrative responsibilities imposed upon teaching staff, and the mounting pressure to produce a constant stream of research.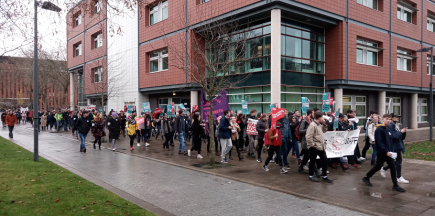 Younger staff in particular are also exhausted by the continued use of fixed term contracts. As a result, even senior teaching staff have little job security, and junior staff have next to none from one year to the next. 
The constant rotation of staff also, inevitably, has a negative impact on students, as tutors are forced into teaching classes outside their specialism. One protestor said: "Students are being taught by people who don't know what they are teaching."
Staff also expressed dismay at the increasingly commercial culture displayed by senior management. One sign of this is the turning over of buildings on the university's north campus to an investment portfolio.
This has sparked anger from many staff, who feel it is demonstrative of a mounting attack on the established principles which guide higher education.
Professor Aneez Esmail from the School of Health Sciences, lamented: "The city [of Manchester] is on board with this. It isn't about education, it's about private enterprise."
Many I spoke to frequently raised concerns over the double standards in investment at the university.
Mr Swanson drew attention to the massive investment being poured into new buildings whilst staff on lower salary bands have faced a pay drop of up to 20%.
There is also still the embarrassing problem of the gender pay gap, as well as wages for staff from ethnic minorities and provision for disabilities on campus.
The feeling among protestors was of profound disillusionment with university leadership. Of those questioned, none believed that senior management had the interests of staff in mind in their decisions. Some even found the prospect laughable.
If anything, this appears to be as much a confrontation of ideology as management style. On the one hand, senior management emphasises improving the 'student experience' and increasing the university's presence in the international market. Meanwhile, teaching staff exhibit their distress at the overemphasis on finances at the expense of creating a positive environment for students and staff.
Strikes at the University of Manchester and across the country will continue until Wednesday, December 11.
Demonstrators at UoM proudly informed MM that they have pickets, marches, and rallies planned for every single strike day.