Fixed penalties for Manchester's cyclists have dropped by 18%, MM can reveal… however road safety campaigners are still frustrated with the lack of progress.
Figures obtained through an FOI request to Greater Manchester Police (GMP) show 121 fines were issued from June-December 2014 compared to 147 the previous six months.
The top two penalties were for 'cycling on the pavement' and 'contravening traffic sign/road sign markings'.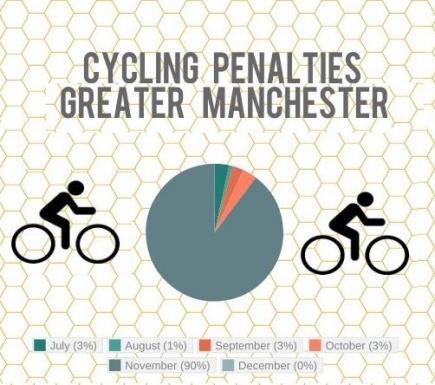 NAUGHTY NOVEMBER: Cyclists racked up 90% of penalties in November
The scheme, known as 'Operation Considerate', was enforced by GMP in 2014 after they came under intense scrutiny for fines issued under a former policy known as 'Operation Grimaldi', which racked up the highest number of fines in 2013-14 but was inefficient according to GMP's Inspector Paul Rowe.
"The course offered with Operation Grimaldi was very labour intensive and for two days of the operation there would be three to four evening training sessions at a local fire station. This would not be sustainable for Operation Considerate," said Inspector Rowe.
GMP targeted irresponsible cycling on the roads of Greater Manchester and accident hotspots, in particular along Oxford Road and Wilmslow Road.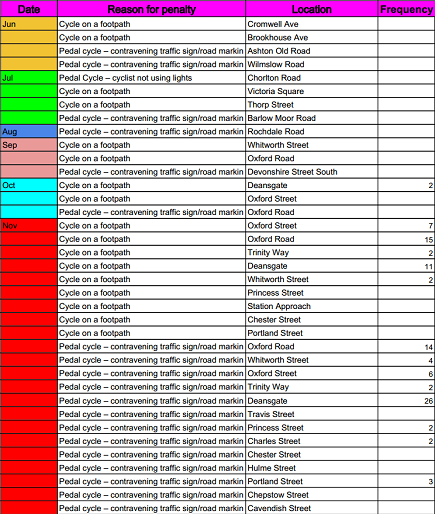 DEANSGATE MENACE: 26 penalties were issued to red light jumpers on Deansgate
Cyclists were given the option of attending a cycling safety course at GMP's discretion instead of paying the fine though, at £50 a go, fines were viewed as costly and unfair punishment by many cyclists.
They criticised the scheme because it was felt that GMP were targeting them unfairly and the same rules and penalties were not being applied to all other forms of traffic.
Inspector Rowe added: "It is fair to say that various groups from the cycling community contacted the Police Senior Leaders Team feeling that they were being picked on and singled out, even though motorists were prosecuted for offences.
"Those involving cyclists were able to attend an 'Operation Considerate' training session, where the aim would be to educate all road users to be considerate to each other.
"The operation commenced with two weeks of engagement and education with all road users and then two weeks of enforcement."
Pete Abel, Manchester's representative for the 'Love Your Bike' campaign, is involved with Manchester City Council's cycling ambition 'Cycle City' (aka Velocity 2025) and said changing people's attitudes rather than just enforcing quick fines was vital.
"There's still a lot of criticism about whether they are focusing on the right people, but you can see the Police are under pressure from all sides," he said.
"They are now talking to or fining everybody.  Why don't they continue to offer the free cycle training that exists in Manchester?
"In Leicestershire or Cambridge, what they say is 'We're going to give you a ticket, but if you come to the police station with your lights and receipts we'll strike out your ticket'.
"It's the behaviour you want to change – a fine won't change their behaviour."
Transport for Greater Manchester (TfGM), who oversee transport and travel across the city, took over responsibility for cycling in 2011 and are spearheading the new cycling regeneration scheme for the first time.
This £45million long-term investment aims to increase cycle journeys by 10% in the city and deliver 56km of largely segregated cycle routes.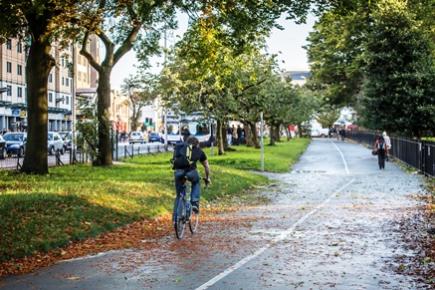 WIDE OPEN SPACE: Oxford Road's lanes have ample room (image courtesy of Transport for Greater Manchester)
However many in the cycling community have commented that the infrastructure and new plans are still inadequate and the expansion of the tram network, Metrolink scheme, is conflicting with the cycling regeneration plans.
"They have said there will be no path or shared path even across St Peter's Square and it's within the power of the city council to do that, but at the moment there's going to be no provision," added Abel.
"So when you get to the top of the nice new route on Oxford Street, where do you go?
"Now cyclists have to cycle on the pavement and get a fine or get off and walk. There's no legal way for a cyclist to get across it by bike."
Helen Ramsden, Head of Travel Choices and Active Travel at TfGM, said they were working with Manchester City Council to investigate cycle route options in the city centre.
"Like any modern city, there is a limited amount of road space to develop new infrastructure to benefit cyclists.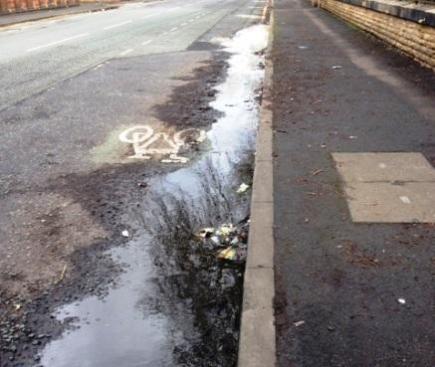 NOWHERE TO GO: Some of the poorer cycle lanes riders are faced with in Whalley Range
"After the initial awareness raised for 'Operation Considerate' at subsequent events, enforcement action was taken by GMP. Ultimately, the issuing of fixed penalty notices is a matter for GMP."
Inspector Rowe added: "We, and a number of other forces, are looking to a national online course for cycling offenders but unfortunately this will not be free."
GMP will be at Piccadilly station this Saturday to offer free bike marking, along with a cycle doctor to advise on repairs, from 10-2pm.
Main image courtesy of Transport for Greater Manchester, with thanks.