A burly former boxer camps up his job in the construction industry – by claiming to be Britain's first openly gay builder.
Ray Bulloch, 49, has laughed off jokes about having a 'builder's bum' to sport pink hardhat, pink tools and even a pink work van which he boasts is 'powered by fairydust'.
Widowed father-of-one Ray – who came out as gay when his wife died – set out on his venture after experiencing homophobia and bullying within the building industry.
The final straw was when a young apprentice sabotaged the bathroom of a homosexual man and verbally abused him – prompting Ray to leave him at the scene where he said: "Only gay men get in my van."
Since then, his company, R&G (Ray and Gay) Builders and Property Maintenance, has gathered a growing customer-base servicing the LGBT community and single heterosexual women who feel less pressurised and intimidated by Ray and his four employees.
And just to make sure the company stand out from the rest, Ray's team travel around  London in a 'blinged out' pink Ford Transit, work while listening to radio station Gaydio – 'the beat of gay UK' – and buy as many tools and accessories in the colour pink as they can.
And Manchester could soon be enjoying Ray's services. The company has been so successful over the past 14 years that they are now hoping to expand, after phone calls from potential customers in Manchester and Brighton who couldn't find a similar service elsewhere.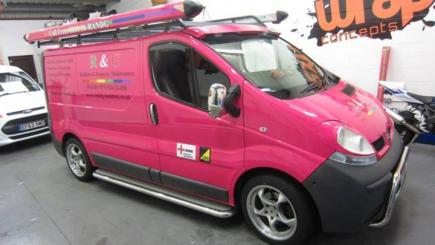 POWERED BY 'FAIRY DUST': Ray's van is 'blinged' up
Ray, from Plaistow, East London, said: "We are run exactly like a straight company but the clientele is gay, I am gay and some of my staff are.
"I have a van which is blinged up and my logo was 'powered by fairydust' but then I thought to myself that I wanted to be really open and not care what people think so I had my whole van painted pink.
"I even get straight builders telling me how lovely the colour is."
Ray didn't announce his homosexuality until 15 years ago when his wife Enrica, died aged 33 from a medical condition.
He added: "I was in the closet a lot of the time I was in the business before this company and I spoke to people in the LGBT community who said how difficult it was to find a builder and how people were being ripped off and builders would joke with them in a nasty way.
"There was a lot of abuse at work and the way people were being treated got up my nose. People would keep asking me about my bird and I just thought to myself, 'I have to get out of this. I can't keep hiding away pretending I'm someone I'm not'.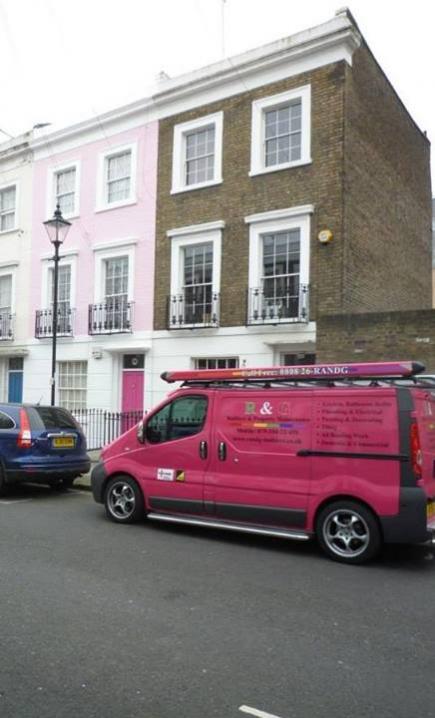 IN DEMAND: Ray gets many calls from people in Manchester requiring his services
"Now I have people phoning up from Manchester begging me to come down and saying they will put me up in a hotel just for me to do their work.
"I try and buy as many pink items as I possibly can. It's a gimmick I came up with. Also, a lot of big companies are selling pink stuff for cancer research charities so it's good to give something to those."
R & G specialise in fitting bathrooms and kitchens but will undertake most building jobs, with Ray joking that as a gay man he always ensure his staff hoover up afterwards.
The company have three heterosexual employees but they are told about the way the business is run and the clientele well before they start.
They even appeared at last year's London Pride event in their van and will be taking part again this year with the newly-painted version.
One initiation test on a new recruit involved him having to take a pink Henrietta hoover down the road in front of other builders.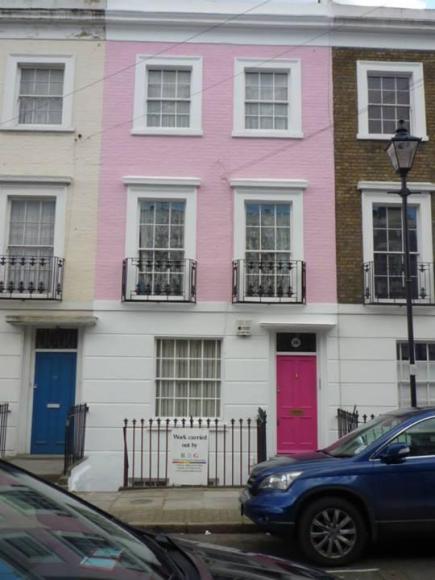 PAINTING IT PINK: One of Ray's jobs
Ray added: "I said if you don't do it you may as well go home.
"I love my work. I'm an ex-boxer doing this in the East End of London. It's not the best place to be a gay builder. When people look at me they ask if I really am gay and I say yes and they laugh and joke but they start believing me when I turn up in the pink van with my pink folder.
"But you see people when you drive along in the van playing Gaydio loud with the window down and they're having a laugh and I love it.
"It's not about getting in people's faces but slowly introducing them to show I'm not any different to anybody else.
"People leave the building industry because a lot of homophobic stuff goes on. It's a different world – it's like a big bubble. I'm trying to change that and show it doesn't have to be."
To contact Ray and his team for a quote, visit: http://www.randg-builders.co.uk/
Images via Facebook.