A campaign to lower the speed limit in urban areas to 20mph has been branded 'reckless' and 'disappointing' by Manchester's branch of the Alliance of British Drivers.
The GO 20 campaign was launched by road safety charity Brake and aims to lower the speed-limit in all residential areas.
MP for Stretford and Urmston, Kate Green, joined the campaign as part of her Safer Trafford Streets initiative and believes it is vital to saving lives.
"I'm really pleased to support Brake's GO 20 campaign," she said.
"Evidence shows that 20mph speed limits do lead to safer, stronger communities and better survival rates in the event of an accident."
In 2012, there were 6,058 casualties caused by road traffic accidents in Greater Manchester following an overall trend of declining numbers of reported road casualties.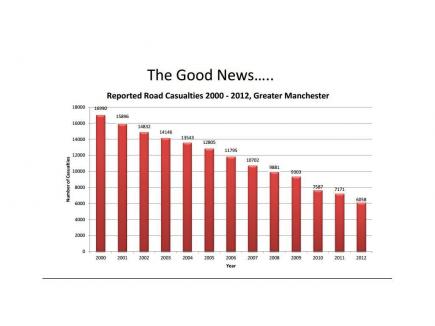 SLOWING DOWN: Figures show a drop in the amount of road accident casualties
Despite this, spokesperson for Manchester's ABD branch Sean Corker, told MM he was 'surprised and disappointed' that Ms Green has backed the initiative.
The ABD disagree with Ms Green and point to the Department for Transport (DFT), who have just announced a three-year study on the effectiveness of 20mph speed limits with a final report not due until 2017.
"This follows what the government describes as 'inconclusive' results of trials in Portsmouth and Bristol, ironically areas that 20mph advocates point to as successes," said Mr Corker.
A report carried out in 2010 on behalf of the DFT found that in Portsmouth, prior to the trial, an average of 18.7 people per year were killed or seriously injured on the streets covered.
This rose to 19.9 per year after the speed reduction, although the limit was not enforced by speed cameras or sleeping policemen but relied on drivers obeying road signs marking the new speed limit.
"It is misleading and reckless for 20mph advocates to continue to call for yet more 20 zones given these casualty figures and especially before the government has completed its long overdue investigation," Mr Corker continued.
"I also am surprised and disappointed that the member for Urmston and Stretford is seeking to undermine that government research by backing the roll out of more 20 limits."
A Greater Manchester safety camera operation found that speed is a crucial element in 28% of collisions and 'excessive or inappropriate speed' is a major factor in about 20% of serious road traffic incidents causing death or serious injury.
They announced that a reduction of 2mph in the average speed across the road network would save an average of 200 lives a year.
Research has found that when pedestrians are hit by a vehicle at 20mph around one in 40 dies, compared with one in five at 30mph.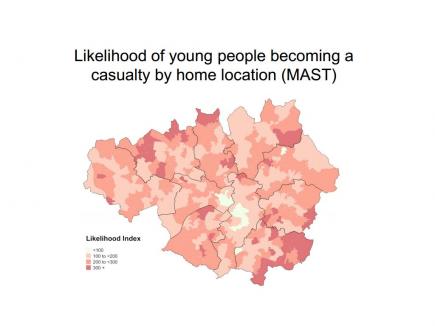 HOT SPOTS: Areas of Greater Manchester young people are most at risk in
However, young people are over-represented in the number of victims rescued from traffic accidents, according to Greater Manchester Fire and Rescue.  
"Road traffic collisions represent the leading cause of death for young adults aged 15-24, with young drivers and their passengers most at risk during the first two years after passing their test," said a GMFR spokesperson.
They also say that speeding in urban areas severs communities and reduces quality of life, especially for children and the elderly.
This risk to young people is recognised by the public as eight in ten people across the UK believe 20mph should be the norm around schools, on 'residential streets, and in village, town and city centres', according to a survey by Brake. 
They believe that the tipping point has come and want the Government to introduce a national reduction of urban speed limits to 20mph in order to reduce the cost of implementation for individual local authorities.
However, ABD see this as further evidence of the so-called 'nanny state'.
"If the answer to every road safety question is now 'reduce the speed limit' then casualty figures would suggest that 20mph is too fast and that we need to go back to walkers with red flags preceding every vehicle," Mr Corker suggested.
"Growing up I remember being taught to follow the Green Cross Code, that road safety was a partnership and the responsibility of all road users.
"Concentration, anticipation and common sense have been replaced in the road safety tool box by 'reduce the speed limit'. This is like tackling every household DIY job with just a hammer."
Main image courtesy of Ian Britton, with thanks. Graphs courtesy of Manchester Fire and Rescue Service, with thanks.