A war of words began between homeless campaigners and Manchester City Council today when protesters camped on St Peter's Square were served an eviction notice.
Two council officers, accompanied by police officers, listened to chants of 'city council, Nazi scum' by some of the protesters as notices were served at 3.30pm, nine hours after campaigners had moved from Albert Square.
Until 7am this morning, protesters calling for better homeless facilities in Manchester had been camped on Albert Square for 13 days.
Adam, a homeless outreach worker, aggressively told council officers: "This is social cleansing; you're just like Hitler, you're as bad as the Nazis."
He is also heard in the video, below, shouting: "Every time they evict us it's going to get more lairy, and you're going to need more officers."
The notice gives the group until 9am tomorrow to vacate the site, but the group say they will not be deterred.
Adam told MM: "We're just going to keep moving. Each time they move us we're going to try to go to a more high-profile location.
"They keep saying they don't have any money for homeless people yet they're willing to throw thousands of pounds away every time they take us to court."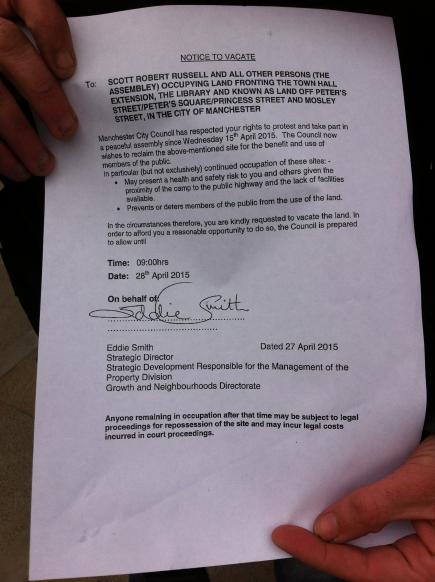 EVICTION: Homeless protesters have until 9am tomorrow to evict St Peter's Square
Official figures say there were 101 rough sleepers in Greater Manchester in autumn 2014, up by 31 from the same time the previous year, though critics argue the statistics are unreliable because they are only collected on a single night.
Barry, a homeless man but not part of the protest, said: "There aren't enough hostels – I only know one in the whole of Manchester.
"There's plenty of food about but there should be somewhere for people to stay. This should not be happening, this is the 21st century."